There's no such thing as asking too many questions.
Before entering an equipment financing agreement, there are plenty of questions to ask and factors to consider to fully understand the agreement you're about to enter into and how it could impact your future financial options.
You likely have already identified what type of equipment you want to purchase, and possibly finance companies you want to work with, but it's important to understand the agreement you're about to enter and how it could impact your future financial decisions.
The most important thing to know is that equipment financing is a sound option that can help promote your business's growth. For one, financing allows your business to operate, develop and keep the pace with the latest equipment options, while also helping you conserve capital and maintain cash flow.
Before signing anything, ask these six questions:
1. What Type Of Equipment Do You Need?
Research the equipment you're going to finance. How much you invest in a financing agreement depends on the type of equipment you're buying; how much it will produce and how long it will last.
You should also consider whether this piece of equipment will accomplish what you want it to while increasing productivity, reducing expenses and staying ahead of the competition.
2. Do You Understand The Difference Between EFAs And Simple Interest Loans?
The two can look identical. However, an Equipment Finance Agreement (EFA) is usually looked at as a link between a lease and a loan.
Jen Rakotz, client relations supervisor at Stearns Bank, has consistently seen customers unaware of the difference.
"Most customers are familiar with simple interest loans, and that is the standard when financing personal vehicles or mortgages. They expect business loans will follow suit," she said.
"For example, some customers are initially concerned that there is no stated rate and no breakdown between principal and interest with EFAs. This is without understanding the advantage this gives them by allowing their accountant to depreciate the finance charges as they see fit for their business."
The two biggest differences between an EFA and a simple interest or consumer loan are 1.) EFAs have no stated interest rates, and 2.) There is no breakdown between principal and interest in EFA contracts.
The finance charges are calculated into a stream of fixed contractual payments over the course of the chosen term. The customer is responsible for the gross contract amount, which is the sum of the contractual payments.
See our blog, The Differences Between Equipment Finance Agreements and Simple Interest Loans, to understand the difference.
3. Which Financing Company Should I Work With?
The financing company you choose should have experience in your industry, a deep understanding of the equipment you're going to purchase and of how it can help your business.
A diligent financing company will also be aware of any industry changes or opportunities that could impact you in regard to this purchase.
"At Stearns Bank, we don't base our credit decisions solely on credit scores from the various reports we review. This may include your personal credit report and business reports such as Business Experian or PayNet," Rakotz said. "With that being said, the transaction needs to make sense for your business. And, ultimately, we need to be confident based on what we review and that the EFA will be repaid."
Custom financing options should be made available based on your specific needs, such as seasonality, cash flow and budget projections.
And, most importantly, you want to find an experienced team that offers great customer service. When you have a great connection with individuals at the company you choose, the process will be smooth and enjoyable.
4. Is Your Credit Up To The Challenge?
Before submitting an application for a financing agreement, make sure your personal and business credit are strong. While they are not the only factor, they will certainly be evaluated by any financing company.
Be ready to have valid reasons for any inaccuracies or surprises. Remove suspect accounts that were falsely reported and make sure your payment history is accurate.
You should also be ready to show tax returns and other financial statements from the recent past.
5. Do You Understand How Financing Will Affect Your Bottom Line?
An equipment financing agreement can be treated as an operating expense on your income statement. This can reduce your taxable income. Consult with a tax professional to be sure your reported expenses conform with the law.
Financing a piece of critical equipment can improve efficiency and output. Replacing old equipment often reduces maintenance costs, as newer equipment is easier to operate and maintain.
If you choose to outright purchase the equipment you want, the large cash outlay may deplete your cash flow. This leaves less cash on hand for surprise expenses like an equipment breakdown, new hire or accident.
Financing equipment is a proven and smart way to save money, increase productivity and maintain a healthy cash flow.
"EFAs allow a customer to set up payment plans to fit their business needs," Rakotz said. "Customers can preserve their cash flow for other business needs such as unexpected expenses like repairs. Or they can use it for materials and supplies for future jobs.
"By financing their equipment and preserving cash flow they may be able to avoid credit card use or credit line use. Credit card interest rates are typically much higher than an equipment loan and a line of credit typically takes larger assets, such as your home, as additional collateral."
6. Do You Understand Equipment Financing's Tax Benefits?
For anyone that has used equipment financing in the past, you most likely know about the tax benefits. A business owner should understand the tax benefits of financing and investing in new equipment.
The Section 179 tax deduction allows businesses to write off portions of their financing cost of new and used equipment that is put into service during that current tax year.
Take time to learn about Section 179, and consult your tax advisor to determine how it could benefit you.
"It's always important to consult your accountant on what kind of loan best fits the needs of your business," Rakotz said. "EFAs are less likely to require a down payment whereas most simple interest loans will require up to 20 percent, even on a greater profile.
"Additionally, your accountant can depreciate the finance charges how they best see fit for your business since there is no breakdown between principal and interest."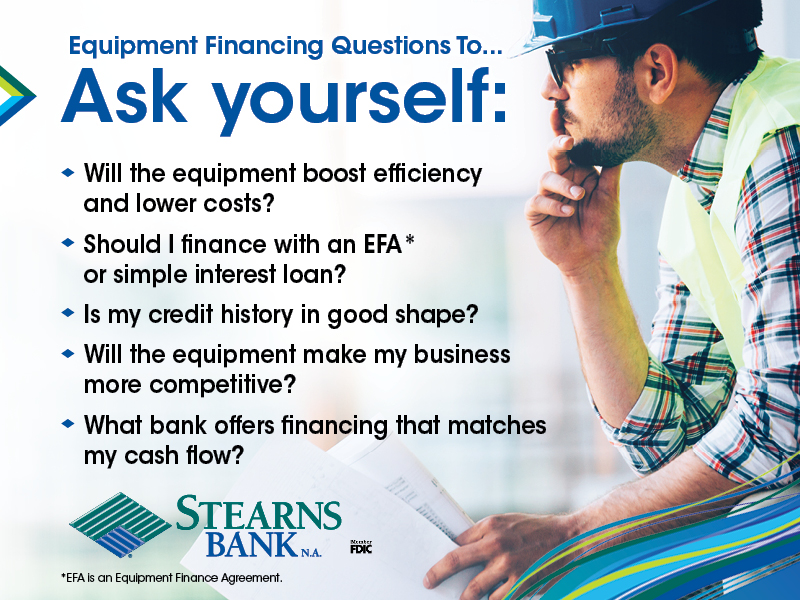 Would Stearns Bank's experience and industry expertise in equipment financing help your decision-making process? Click below to decide.