Most small business owners have experienced their fair share of economic challenges — and studies show there might be another recession in our midst. In January, CNBC reported that the odds of a recession happening in 2023 was over 61%, citing warning signs like rising gas prices, inflation, and a slowing economy.
While Stearns Bank might not be able to predict the certainty of an impending recession, we can help small business owners prepare. Now is the time to educate yourself on potential financing options and discover their invaluable impact on your business, regardless of what lies ahead.
A Refresher on Equipment Financing
Equipment financing is a loan that business owners can use to obtain equipment. With equipment financing, the charges are calculated into a stream of fixed contractual payments over a chosen term.
As a business owner, you are responsible for paying off the balance throughout the contract. In addition, you hold the legal title to the purchased equipment.
Equipment Financing in a Recession
Regardless of the economy, your small business may require an expensive equipment purchase or upgrade at any given point. Maybe your commercial oven has called it quits, or your construction company's truck needs a new engine. Whatever the equipment needs may be, these financial demands could put your small business in a pinch.

During a recession, a small business owner must be aware of cash flow. By financing equipment, you can reap the benefits of the new equipment when you need it most while also ensuring a healthy cash reserve.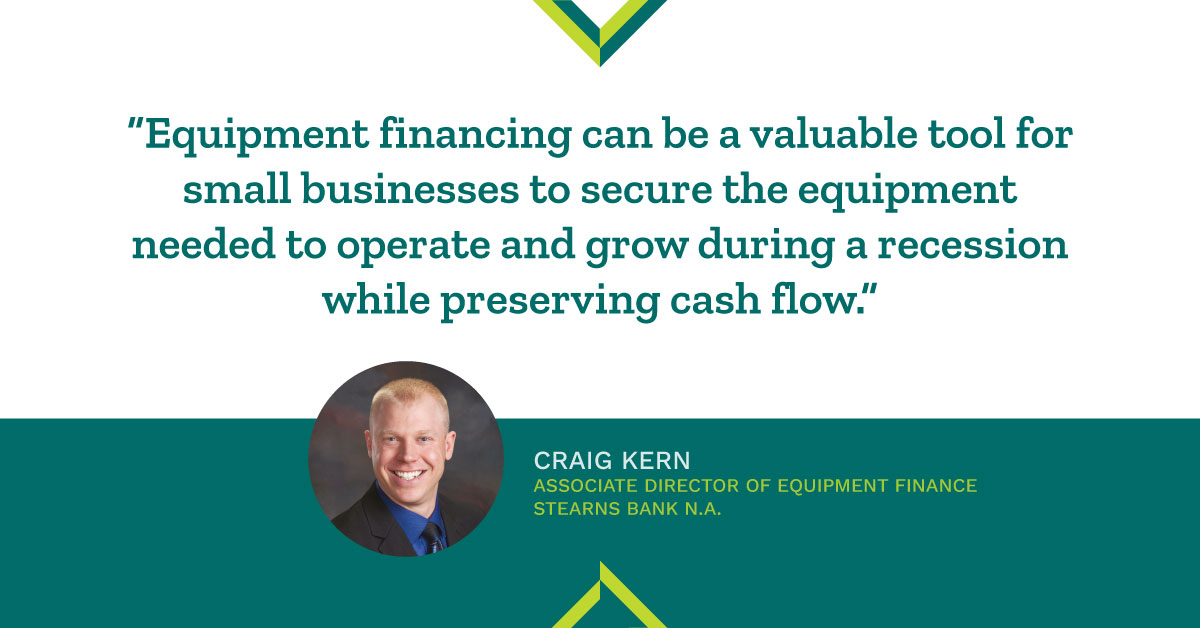 Why Finance vs Purchase Equipment?
There are a lot of advantages when it comes to financing equipment, especially in a potential recession. The main benefits include:
Ownership

— Receive full ownership of the equipment you need to run your business, even if you don't have the cash to pay for it immediately.

Cash flow

— As mentioned above, financing helps a business preserve cash for other expenses, like payroll, rent, or unexpected payments.

Tax advantages

— Financing helps reduce tax liability* and can be used to qualify as an operating lease for tax reporting purposes using Section 179.

Flexibility

— With a lender like Stearns Bank, business owners can enjoy custom payment options that align with industry-specific cash flow cycles.

Competition

— Regardless of a recession, the latest and greatest equipment can help your business stand out against the competition, improve efficiency, and increase revenue.
*The Tax Cuts and Jobs Act includes possible tax deductions for business interest expenses. Consult a tax advisor for additional details.
Overall, equipment financing can be a valuable tool for small businesses to secure the equipment needed to operate and grow during a recession while preserving cash and taking advantage of potential tax deductions.
Interested in Equipment Financing?
With a possible recession in our midst, Stearns Bank understands the fear and uncertainty small business owners face every day. Our equipment finance staff has the industry experience to guide you through the equipment financing process with personalized service and customized solutions.
We are driven by our passion for helping small business owners achieve their greatest ambitions. With the right small business loan, you can grow your market share, expand your product line, and become more efficient.
Contact an equipment financing expert today to discover how we can craft an equipment financing offer that boosts your business, regardless of the economic challenges ahead.