Not all bank accounts are created equal. Opening a business bank account is one of the biggest decisions for a small business owner. The right account can streamline your cash flow, organize your finances, and even boost legitimacy to lenders. Stearns Bank's BusinessSmart™ and BusinessEssentials™ checking accounts each boast a laundry list of benefits. Below are five of the biggest.
1. Stearns Bank's Customer Service
Just like every dollar matters as a small business owner, so does every minute. You don't have time to waste navigating an automated phone system while trying to contact your bank.
Stearns Bank's team of business banking experts and live customer service representatives are waiting to answer your call on the first ring. Forget the hold lines and confusing phone navigation system. With Stearns Bank's BusinessSmart checking account, you can rely on real people.
Speak to a Live Representative, Every Time
When it comes to Stearns Bank's customer service, don't just take our word for it. Andrejs Spalvins, owner of Fish Bowl LLC in Sarasota, Florida (and BusinessSmart account holder), described his satisfaction with our customer service by saying, "They give me really great personal service. I know everybody at the Sarasota branch by name, and they always greet me with a smile. If I have a problem, I can trust them."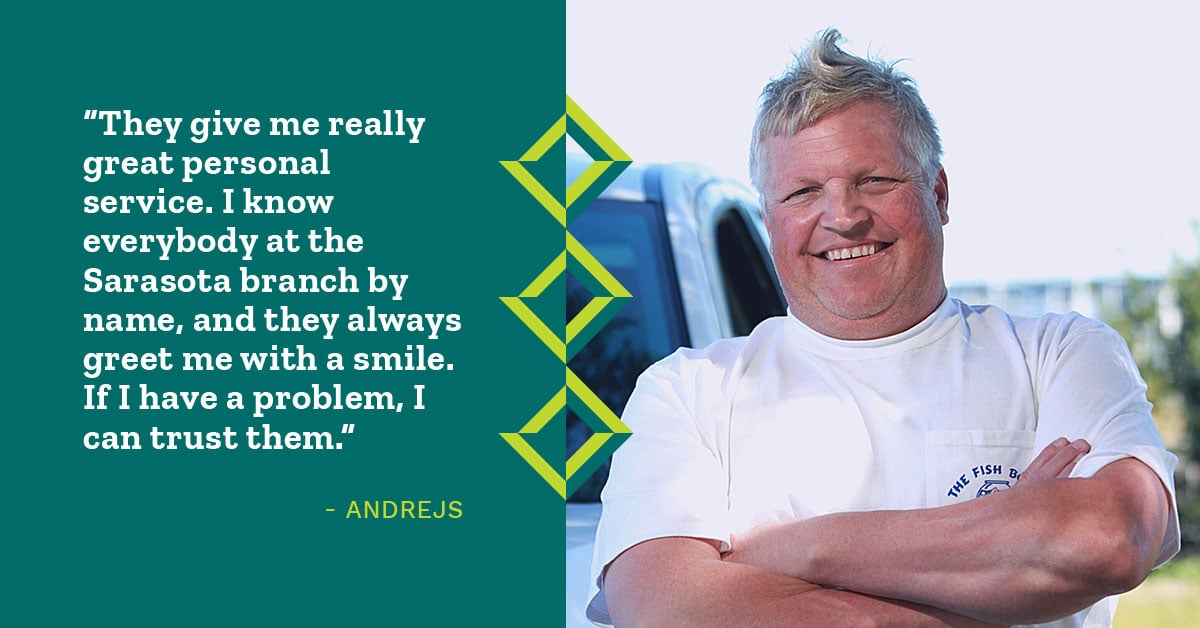 2. No Hidden Fees
Stearns Bank understands that every single dollar matters when you're running a small business. We are proud to provide business checking & savings accounts with absolutely no hidden fees. This also includes no opening balance fees or minimum balance requirements!
Many financial institutions might try to nickel and dime you over service fees, excessive transaction fees, insufficient fund fees, and even monthly maintenance fees. These small recurring charges can eventually snowball into thousands of lost dollars from your small business.
3. Earn Interest & Rewards
You work hard, your money should work for you too. Our BusinessSmart checking accounts earn interest and cash back, helping to bring you one step closer to reaching your goals.
With some of the strongest interest rates in the industry, you can rest assured that your BusinessSmart Checking Account is working alongside you to grow your business. Not to mention, with the Diamond Cash Rewards program, you can earn cash rewards on purchases made to your account every month!
4. StearnsConnect Online & Mobile Banking
StearnsConnect, our mobile banking platform, allows you to handle your business banking at any time or place. The safe and secure mobile tool gives you real-time access to your account. You can check balances, review transactions, view online statements, deposit checks, transfer funds, pay bills, and even schedule future transactions from your phone.
Not to mention, with over 41,000 free ATM locations across the country, Stearns Bank makes it easy for you to access your cash without any fees.
5. Business Banking Add-On Services
Stearns Bank is proud to offer a wide variety of online and mobile add-on services that help small business owners with day-to-day operations. These features are always evolving based on the needs of our customers, including: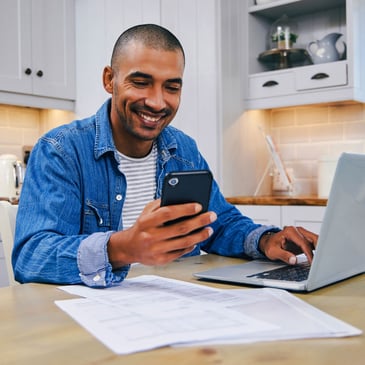 Autobooks
Wire funds and ACH transactions
Bill Pay
CardSwap – auto-payments manager
My Credit Manager
ID Protection
Bank alerts
Autobooks Subscription Service
Autobooks is an online service that allows you to manage your accounts receivable and direct funds into your Stearns Bank business account with one simple click. Autobooks makes it easier to run your business with the ability to:
Send invoices directly to your customer's inbox
Accept on-the-spot electronic payments
Offer convenient online payment options
Deposit payments directly into your checking account
Review customer payment activity – who has paid, who still owes money
Stearns Bank's Business Banking Experts
Stearns Bank understands all of the challenges and opportunities you are facing as a small business owner. The BusinessSmart and BusinessEssentials checking accounts offer you simple, smart, and rewarding ways to do business banking.
Whether you're seeking live support from a business banking expert or growing your money with above-average interest rates, the benefits of Stearns Bank's business deposit accounts are made to help you reach your goals.