Inflation, unruly climate, and supply chain problems created a challenging agricultural year for many farmers and ranchers across the country. As this year's harvesting season reaches an end, you're likely turning your attention to machine repairs or budget adjustments. A farm loan could lessen the financial burden of improvements needed before next year's agricultural season, and now is the perfect time to apply. Keep reading to discover why.
USDA FSA Farm Loans
What are your goals for your farm this year? If new buildings, land acquisition, or major equipment purchases come to mind, a Farm Service Agency (FSA) loan is the perfect opportunity to bring these ideas to life.
The FSA, an agency of the U.S. Department of Agriculture (USDA), offers loans to farmers and ranchers to start, expand, or maintain a family farm. These FSA loans can be used to purchase a variety of things, including:
Land

Livestock

Equipment

Feed/Seed

Supplies

Building Construction
Why You Should Apply Now
It's no secret that farming is a time-consuming and labor-intensive job. With most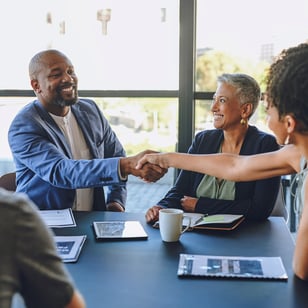 farmers, ranchers, and agricultural managers working from sunrise to sunset during the planting and harvesting season, there is little time left to plan next year's crops, market output, and repair or maintain machinery. Although applications and financing for USDA FSA loans are open and encouraged year-round, winter is the perfect time to reflect on your business and plan for the year ahead.
Do you have a machine that needs to be repaired? Are you interested in purchasing land to expand your acreage? These questions can point you down the right path to finding the right financing without needing to dip into your hard-earned cash reserves. By taking the first step today, you can ensure that you have the funding to make improvements, repairs, or purchases before the planting season even begins. If you are unsure where to start, a trusted team of Stearns Bank ag loan experts are waiting to answer your call on the very first ring.
Farming Families Deserve Personal Customer Service
As a farmer or rancher, it's crucial to partner with a financial institution that understands your industry. Take it from Stearns Bank's customers Bob and Jolene Schyma, owners of BS Dairy LLC and 300 acres of farmland.
In their previous banking relationship, the Schymas weren't satisfied with slow response times, unexpected fees, and a lack of agricultural-based industry knowledge. After partnering with Stearns Bank, the Schymas were able to finance a chopper, chopper boxes, and a cattle trailer. But on top of that, the customized personal service made all the difference.
"You always get a person you know, and they're friendly," Jolene said. "I can do a lot of online banking and bills online. I can also do paperless billing. I like that Stearns Bank is up to the technology aspect while not losing that personal touch."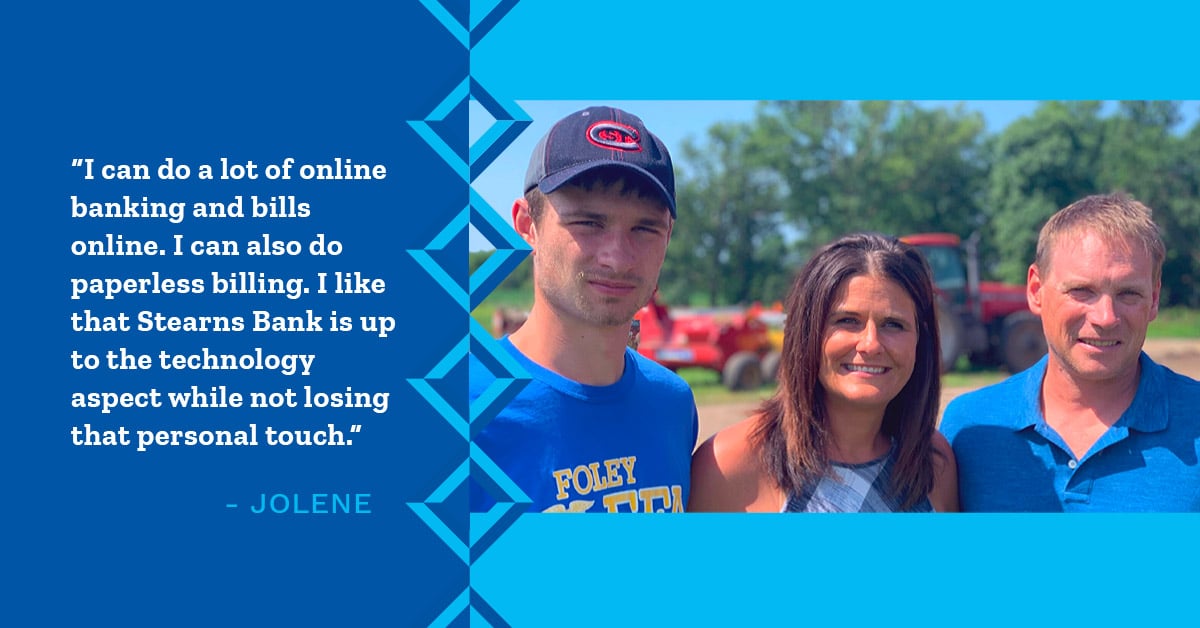 How the Stearns Lending Team Makes It Easier
Our story began in rural Minnesota, and we have proudly financed small business growth and revitalization in rural areas for decades. At Stearns Bank, we start by building a strong relationship as we move forward with creativity and a sense of urgency.
When you partner with Stearns Bank, you will meet with an Agriculture loan expert to discuss your project, goals, and review your business plan. Together we can determine the best type of financing for your farm. If an FSA loan is the appropriate route, our team will lead you through the loan process, submit paperwork, anticipate potential issues and resolve them early, so your loan can close on time.