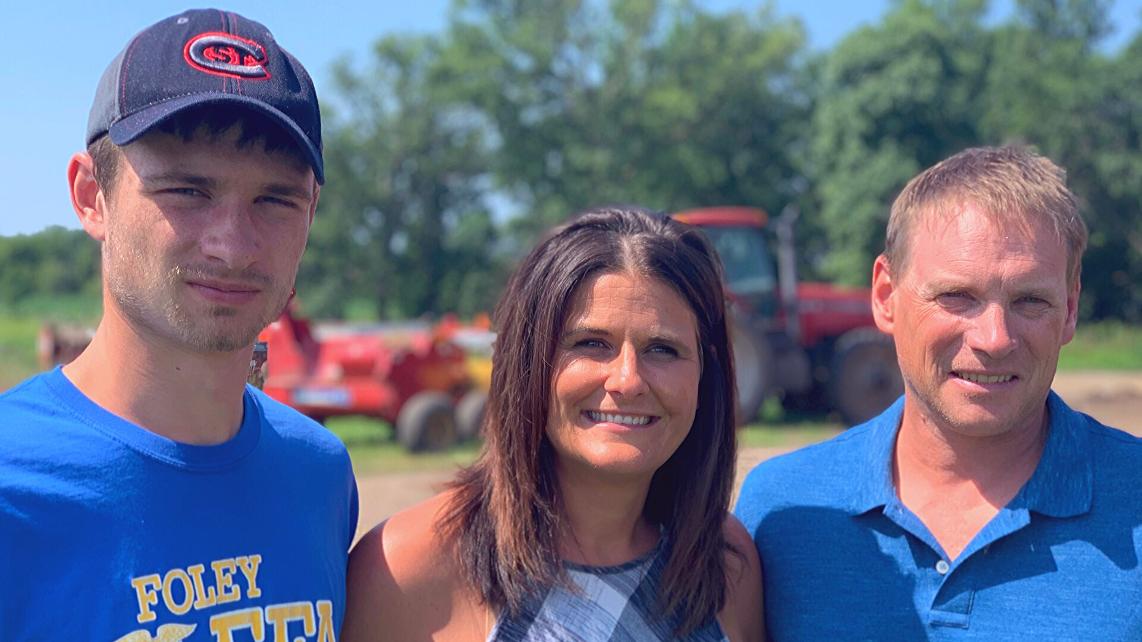 Ag Family Finds Personal Customer Service At Stearns Bank
Bob, Jolene, Brenden Schyma
Rice, MN
business banking
personal banking
Farmers like consistency.
Like any industry, farmers need to be able to plan for the future. Whether you're a dairy farmer, or you run a farmer's market, it's a risky business that requires the right financial support and relationship.
Working with the right financial institution has always been important for the Schyma family, who owns BS Dairy LLC near Rice, Minnesota.
The Schymas – Bob, Jolene and son Brenden – focus on their dairy operation every day, while also farming 218 of their 300 acres.
The Schymas have been on their farm since 1996, building it on their own on property that had belonged to Jolene's grandparent's.
In their previous banking relationship, the Schymas weren't satisfied with slow response times and the unexpected fees that frequently appeared on their accounts. They also longed to see familiar, consistent faces when visiting a branch.
"At our old bank, I'd go there, and I'd have to jump through their hoops. You always got charged for stuff that didn't make sense. That was the whole point of me wanting to switch [banks]," Brenden said.
Added Jolene: "It became more and more difficult to actually talk to a human being. It wasn't convenient. This bank, at one point was ag-based, but after a while it became obvious that they weren't."
That experience led to the Schymas looking for a new financial institution. If they were going to switch, they were going to go all in.
After working with Stearns Bank's Equipment Finance Division they knew they had come to the right place.
The Schymas also financed a chopper and chopper boxes and a cattle trailer while also moving all their accounts over to Stearns Bank.
Stearns Bank's online banking platform, StearnsConnect, allows them to pay bills from home while also making deposits rom their mobile devices. But, more importantly, when they need someone, they know they can find a familiar person to work with.
"You always get a person you know and they're friendly," Jolene said. "I can do a lot of online banking and bills online. I can also do paperless billing. I like the fact that Stearns Bank is up to the technology aspect while not losing that personal touch."
Brenden is the future of BS Dairy. Jolene hopes the dairy farm stays in the family for many years to come. "As long as Brenden wants to keep farming, and as long as it helps a family to get by, we hope that he can pass this on to his kids someday," Jolene said.
Lessons Learned
Find a financial institution that understands your industry
Slow response times from financial institutions can effect your bottom line
Try to avoid working with a financial institution that has hidden and unexpected fees in your checking and savings accounts