Revitalizing rural economies, fueling business growth and creating jobs are goals of the USDA Rural Development program.
The USDA has streamlined the program to increase private investment in rural businesses and rural economic development projects under four featured programs, known as USDA OneRD:
Water and Waste Disposal Guaranteed Loan Program

Community Facilities Guaranteed Loan Program
USDA loan funds can be used by businesses or communities for working capital, machinery and equipment, real estate and certain types of debt refinancing.
For business loans, the USDA utilizes the Business and Industry Loan Guarantee Program (B&I), which is a great source for affordable, long-term financing.
USDA Business and Industry loans are like U.S. Small Business Administration (SBA) loans but are intended to promote small business growth and job creation in rural communities of less than 50,000.
Private lenders and community banks, such as Stearns Bank, work with the USDA to make these loans available to investors, developers, business owners and communities. Stearns Bank has been designated a USDA Multi-State Lender. This means Stearns Bank has a direct connection to the federal agency, resulting in faster consideration of a loan application and fewer delays due to paperwork requirements or local restrictions.
How Do I Qualify?
New and existing businesses can apply for a USDA B&I loan. Criteria include:
Located in a rural area (check eligibility here)
United States citizen
Sufficient cash flow to support repayment
Good credit history
Meets balance sheet equity requirements
Feasibility study by an independent consultant
Disaster insurance may be required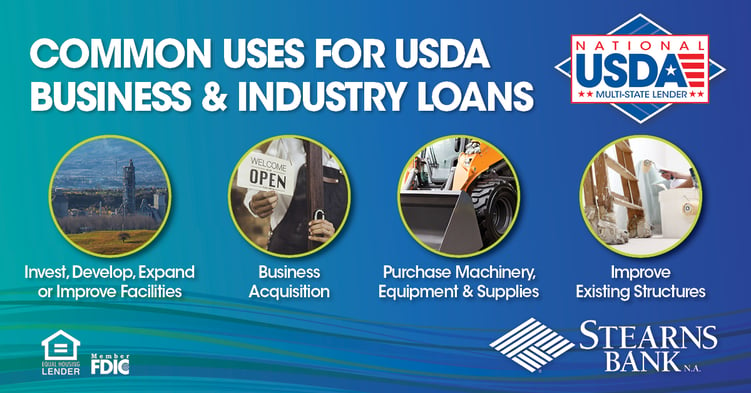 How to Research and Apply
To apply for a USDA Rural Development loan, start by contacting a participating lender, preferably a USDA Multi-State Lender. After discussing your project scope, your goals and financing needs, you and the lender will determine the best loan option. If a loan under the USDA OneRD program is best suited for you, the lender will submit a pre-application to the agency to confirm eligibility.
If you're eligible, you and your lender will submit a full application to the USDA. Typically, the USDA will approve or deny the application within 30 days. The USDA requires financial statements, credit reports and other documents to complete the application, which may include but not limited to:
A business plan

Personal credit reports of all owners

Business credit reports

Resumes of business owners

Current balance sheet

Profit and loss statement not more than 90 days old

Pro forma balance sheet projected for loan closing

Balance sheet and cash flow projections for next two years

Number of jobs created or saved and average wages

Current personal or corporate financial statements for guarantors

Real estate and/or environmental appraisal

Feasibility study by independent consultant (new businesses only)
The USDA B&I loan program carries restrictions on certain types of projects and borrowers. The program does not cover lines of credit, agricultural productions, lease payments and federal tax-exempt obligations. Certain types of borrowers are ineligible: charitable institutions, churches, fraternal organizations, lending and investment institutions, insurance companies, golf courses and racetracks or gambling facilities.
Consulting with a multi-state lender, like Stearns Bank, can help you determine equity and collateral requirements for you and your business partners.
USDA term lengths and amortization depends on the product as well as the underwriting guidelines of the conventional partner.
Click below to learn more about how Stearns Bank can help you with your rural development dreams.
Note: Subject to credit approval/qualification. Terms, conditions and closing costs may apply. USDA policies may differ from Stearns Bank N.A.