The mainstream public usually associates the United States Department of Agriculture (USDA) with mortgage loans, or obviously, agriculture. It's in the name after all.
But the USDA also offers government-backed business loans to borrowers in eligible rural areas. The USDA doesn't lend directly, but rather through financial institutions like Stearns Bank, a USDA Multi-State Lender.
The USDA rural development business loan program is designed to help small business owners start, sustain or grow their business while creating jobs and improving the local economy for communities under 50,000.
Lets' take a closer look at some of the benefits of USDA business loans that often are overlooked.
Good Credit Scores = Better Interest Rates
USDA term lengths and amortization depend on the product as well as the underwriting guidelines of the conventional partner.
What it really comes down to is having good credit. However, the requirements for USDA rural development business loans are generally favorable.
According to Equifax, fair credit scores range from 580-669, good scores range from 670-739, very good scores come in at 740-799, and anything above 800 is excellent. The higher the credit score, the lower your interest rate.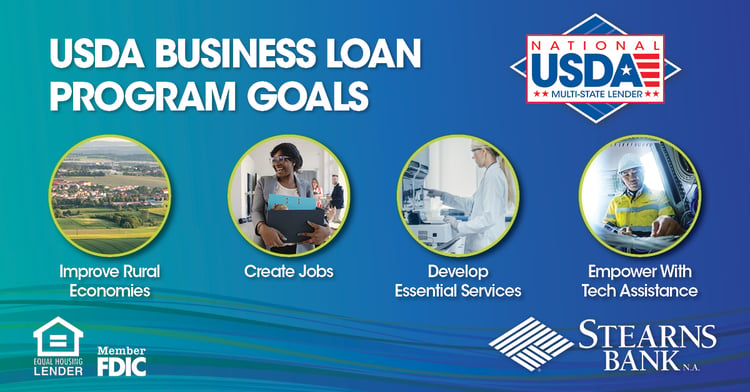 Interest Rates & Repayment
USDA rural development business loans offer competitive interest rates and flexible repayment options.
Interest rates on USDA business loans are set by your lender, with the USDA ensuring the interest rate is reasonable compared to similar loans. Interest rates can be fixed, variable or a combination of fixed and variable. If your loan has a variable or combination rate, the rate cannot be adjusted more than once per quarter, or four times per year.
The guaranteed amount of the loan is based on the loan amount, with the USDA guaranteeing between 60 and 80 percent of a loan under the Business & Industry program.
Loans are on a full amortizing schedule, keeping payments stable through the loan's term.
The best part? There are no balloon payments that might throw you off down the road. It's simple: the length of the loan is dependent on how the funds are used. Real estate has a 30-year maximum term limit, machinery and equipment are 15 years, and working capital is seven years.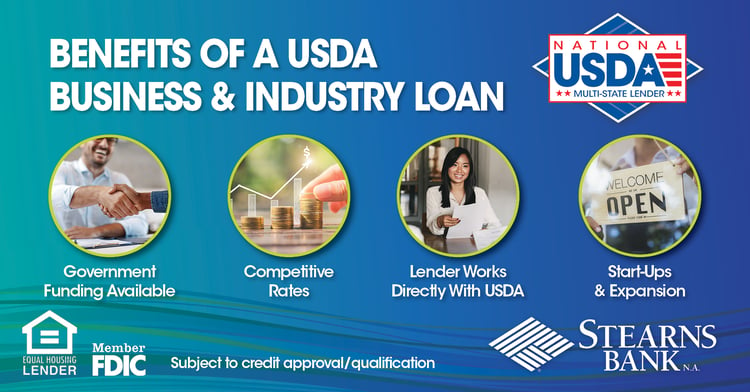 Businesses That Qualify
The target for this loan program includes for-profit or non-profit businesses, cooperatives, federally recognized Native American tribes, public bodies, and individuals engaged or proposing to engage in a business.
The program targets a broad group of developers, investors and businesses. Stearns Bank recommends that prospective borrowers contact a lender to discuss their project and financing needs. Conferring with an experienced lender can save hours of sorting through red tape and complex eligibility requirements.
According to the USDA, a Business & Industry loan can be used for:
Business conversion, enlargement, repair, modernization or development

Purchase and development of land, buildings and associated infrastructure for commercial or industrial properties

Purchase and installation of machinery and equipment, supplies or inventory

Debt refinancing when such refinancing improves cash flow and creates jobs

Business and industrial acquisitions when the loan will maintain business operations and create or save jobs
Populated Areas Could Still Qualify
The USDA defines rural as "any area, other than a city or town that has a population of greater than 50,000 inhabitants, and the urbanized area contiguous and adjacent to such a city or town." The USDA provides an interactive map to determine eligible locations.
A small business owner who is outside a suburban/metro area may be eligible for a USDA business loan, even though they're close to a large population. You also shouldn't overlook that businesses based in larger cities could still be eligible if their project is built in a community that qualifies for a USDA loan.
As a USDA Multi-State Lender, Stearns Bank has a direct line of contact with the agency, often resulting in a streamlined process leading to final funding. The Stearns Bank lending team is committed to personal service, understanding the borrower's goals and challenges, anticipating problems and responding with creative solutions. Contact a USDA rural development loan expert to learn more.