You are a successful and passionate business owner who has built your own enterprise from scratch. You have achieved a lot on your own, but you also know your limits. Sometimes, the best way to grow your business is to hire more employees who can support your vision and goals.
But how can you tell if you need more staff to take your business to the next level? Here are six telltale signs that you need to consider taking on fresh talent to further boost your business productivity and profitability.
1. You're Turning Down Work
Is your business facing the unfortunate problem of declining projects and potential customers due to limited capacity? If the answer is yes, then it is time to consider hiring new employees. However, before doing so, you must ensure that your financial stability and affordability are not compromised.
If your cash flow is stable, and you can afford the added expenses, then turning down work should no longer be an issue. It's essential to note that losing potential customers can impact your business negatively, so adding more employees to meet the demands is a wise investment in your business's future.
2. Customer Complaints Are Rolling In
As a business owner, one of the worst things you can experience is a flurry of customer complaints about delays and slow response times. If you're hearing this type of feedback from your customers, it's important to enlist additional help to prevent any further decline in the quality of your services.
Hiring additional staff to handle the phones and emails will not only reduce response times but will also give you more time to focus on providing top-notch service to your customers. By proactively addressing customer concerns and ensuring timely service, you can prevent negative word-of-mouth and sustain your business's success.
3. Your Business Continues To Grow
As your business grows and prospers, you need to recognize the rising customer base and the positive effect on your bottom line.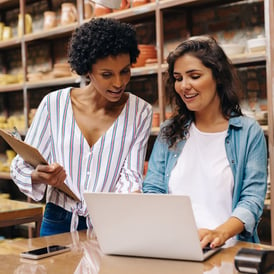 This shows your business's progress and success. But you also need to match your team growth with your customer growth. This way, you can keep your business performing well and avoid any problems that may slow it down.
Remember, gaining more customers and making more money are great achievements, but keeping your team and your business in sync is key to staying on top.
4. Employees Are Unhappy
When many of your employees express feeling overworked or overwhelmed, it's important to act fast.
To tackle this problem, consider having a meeting with your employees to show your support and care for their well-being and productivity. One idea to try is rotating their roles, so each employee can see different sides of the business.
However, if nothing changes, you may have to hire more help. Keeping your employees happy and their workload reasonable is key to your business's success and growth.
5. Contracted Hire Doesn't Work Out
As a small business owner, hiring decisions can make or break your company's success. Opting for a contracted hire may seem like a smart move at first, but if they don't meet expectations, it may be time to reconsider. It's essential to evaluate whether transitioning from a contractor to a full-time employee or seeking alternative candidates is necessary to ensure the smooth running of your business.
On the other hand, if your contracted hire is performing well, extending a full-time job offer may be a logical step forward. Knowing when to hire is key, and if any of these scenarios resonate with you, it's time to consider expanding your team.
6. You're Adding New Procedures and Systems
Embracing new technology or workflows has the power to transform your small business. However, the key lies in approaching these changes thoughtfully to avoid potential bottlenecks.
Hiring an experienced individual, proficient in the latest technology, can guarantee a seamless transition. By doing so, your team will be freed up to tackle other essential tasks, ultimately unlocking their potential, boosting productivity, and enhancing overall efficiency.
Additionally, it is important to address any time-consuming administrative tasks that may hinder your business's overall performance. Spending excessive amounts of time on non-essential work can take away valuable resources from essential activities, such as bookkeeping and invoicing.
Stearns Bank Brings Tailored Banking to Your Business
As you can see, hiring more employees can significantly impact your business's success and growth. However, it is important to note that hiring alone is not the sole solution to enhancing your business operations and efficiency. Alongside a dedicated workforce, the integration of suitable tools and systems is essential for streamlining processes and providing an outstanding customer experience.
This is where Stearns Bank can help. We take pride in offering customized banking solutions that cater to your unique business requirements and goals. Our team of employee-owners has vast experience collaborating with various industries, giving them a deep understanding of what sets your business apart.
If you're ready to take your business to the next level, contact us today. Together, we can transform your business for the better.