For rural business owners, gaining access to the financial resources needed to start, grow or expand is a constant challenge.
To help small businesses grow and keep rural communities thriving, Stearns Bank is committed to expanding loan options.
Let's explore what options are available.
Government Loan Programs
There are a variety of government-sponsored loan programs, including low-interest loans from agencies such as the U.S. Department of Agriculture (USDA) and the U.S. Farm Service Agency (FSA).
To qualify for these programs, a rural business must be in a community or area with a population of less than 50,000. Available loan programs from these agencies include:
Business & Industry Loan Guarantee Program
The Business & Industry loan program promotes rural economic development and job creation by offering loan guarantees to lenders for loans to rural businesses. The target for this loan program includes for-profit or non-profit businesses, cooperatives, federally recognized Native American tribes, public bodies, and individuals engaged or proposing to engage in a business.
This program targets a broad group of developers, investors and businesses. Stearns Bank recommends that prospective borrowers contact a USDA lending expert to discuss their project and financing needs. Conferring with an experienced lender can save hours of sorting through red tape and complex eligibility requirements.
According to the USDA, a Business & Industry loan can be used for:
Business conversion, enlargement, repair, modernization or development
Purchase and development of land, buildings and associated infrastructure for commercial or industrial properties
Purchase and installation of machinery and equipment, supplies or inventory
Debt refinancing when such refinancing improves cash flow and creates jobs
Business and industrial acquisitions when the loan will maintain business operations and create or save jobs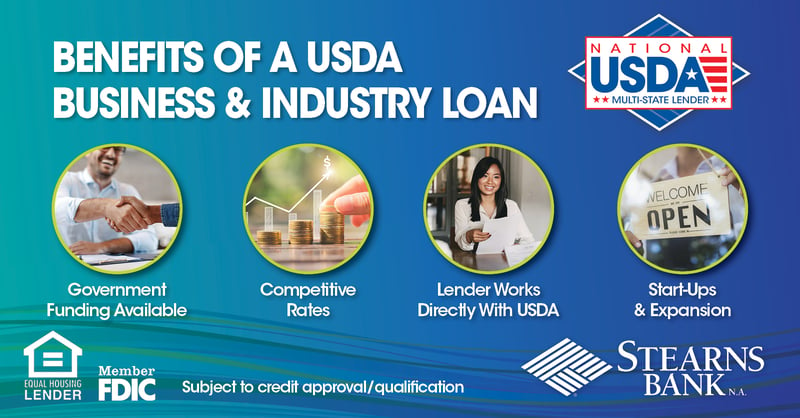 Farm Loan Programs
Offered by the USDA's Farm Service Agency, these loans are a resource for farmers and ranchers to help grow and maintain their business.
Loans are available for all sizes of operations through 100 percent financing for direct farm ownership loans to help farmers become owners/operators of family farms, expand operations, put away land for future generations and increase productivity.
SBA Loans
If your business is struggling to get access to affordable financing, the U.S. Small Business Administration offers a variety of programs, including the Community Advantage Loan Program.
Community Advantage loans are a good choice for new and expanding businesses with borrowing needs of $250,000 or less. The program offers affordable interest rates and long maturities.
If you're unable to qualify for conventional financing, and you meet the eligibility requirements, consider an SBA 7(a) loan to buy real estate, equipment or inventory for your small business. The loan may also be used for working capital, to refinance business debt, or purchase a small business.
A 504 Certified Development Company Loan is also available for those who cannot find traditional financing but would like to purchase/renovate real estate or buy heavy equipment for a small business. This program provides competitive fixed-rate mortgage financing through a lender and a Certified Development Company (CDC). For more information, or to inquire about loan application requirements or contact your local CDC.
Equipment Financing
Equipment financing is a type of loan designed specifically for the purchase of machinery and equipment essential to running your business. You can use an equipment loan to purchase anything from office furniture and medical equipment to farm machinery or commercial ovens.
If you are looking to grow your cash flow, expand your product line, gain a competitive advantage or become more efficient, investing in equipment is a great strategy.
Equipment financing is different than equipment leasing, wherein you pay the owner of the equipment periodic rent for use of the equipment over an agreed-upon period of time. At the end of the leasing term, unless you agree with the owner on renewal terms or a buyout, the equipment is returned to the owner.
Generally, the qualifications for leasing are less stringent than for financing. However, if the equipment is necessary to your business, the endless payments on leased equipment without the prospect of future outright ownership could prove costlier.
How Do I Qualify For These Loans?
To qualify for any of these loan types, business owners need to show good credit and cash flow while presenting a solid business plan and balance sheet.
Contact Stearns Bank to review your business plan, financials and credit history. We can help you explore loan options and find the right loan for your specific situation.
Contact us by clicking below.