Small businesses are the backbone of the American economy.
Minority businesses are critical to providing goods and services to underserved populations in the United States. According to the SBA, in 2019, there were 1.1 million minority-owned small businesses in the United States. The annual revenue generated from those businesses was $1.3 trillion. In addition, 8.7 million jobs were created just from minority-owned businesses.
Minority businesses can obtain business loans from a myriad of sources, including the U.S. Small Business Administration and the United States Department of Agriculture. However, they face challenges when trying to start or expand a small business, including access to loans and grants.
There are also other agencies, like the Minority Business Development Agency, which supports minority-owned businesses. Each year, the agency connects business owners to financing resources and hosts grant competitions.
For African-Americans, the Coalition to Back Black Businesses and the National Black MBA Association provides grants and long-term support to black small businesses in economically vulnerable communities.
Grants for minority small business owners can be great cash starters, but they're not guaranteed. For most businesses, the most likely source of funding is a small business loan from a traditional lender.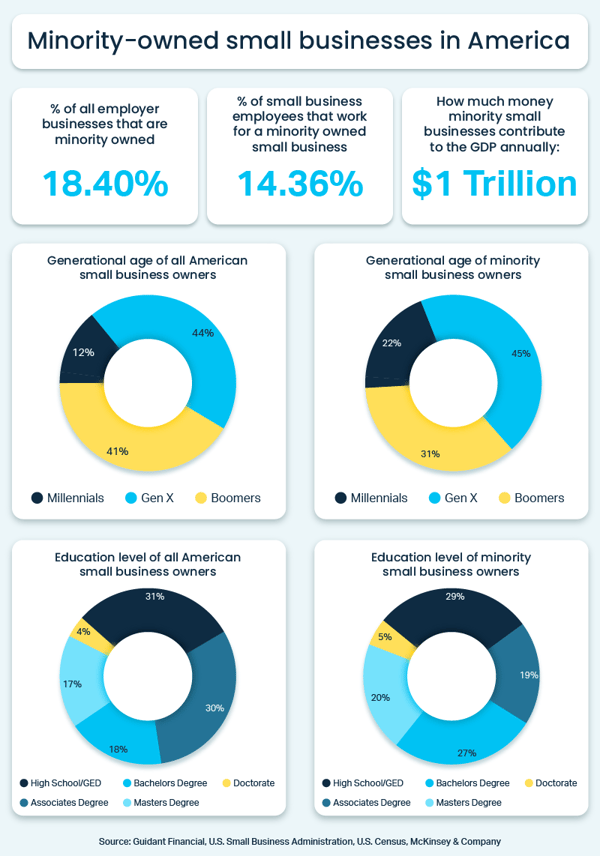 Let's take a look at the types of small business loans available for minorities through a traditional financial institution:
1. SBA 7(a) Loan
The SBA 7(a) loan program enables banks to lend to small businesses, with loan repayment guaranteed by the U.S. Small Business Administration. Minority businesses as well as other types of businesses are eligible for the program. The maximum loan amount under SBA is $5 million, making this is a great choice for large investments. Repayment terms range from 10 to 25 years. Interest rates tend to be low on 7(a) loans, which enables minority business owners to reinvest profits back into the business, rather than paying off debt.
Through the CARES Act, the SBA will pay up to six months of principal, interest and fees owed on current SBA 7(a) loans that are in regular servicing. Contact your SBA lender to confirm whether your loan qualifies.
2. SBA Community Advantage Loan
The SBA Community Advantage Loan program is intended to meet the financial needs of small businesses in underserved areas. The SBA wants to help small business owners who might not qualify for traditional financing. This program is a feasible option for many minority-owned small businesses.
3. USDA Business Loans
The USDA's Business & Industry loan program promotes rural economic development and job creation by offering loan guarantees to lenders for loans to rural businesses. This loan program is designed for for-profit or non-profit businesses, cooperatives, federally recognized Native American tribes, public bodies and individuals engaged or proposing to engage in a business.
This program targets a broad group of developers, investors and businesses. Stearns Bank recommends that prospective borrowers contact a USDA lending expert to discuss their project and financing needs. Conferring with an experienced lender can save hours of sorting through red tape and complex eligibility requirements.
4. Business Consortium Fund Loan
Business Consortium Fund Loans are available to minority-owned businesses from the National Minority Supplier Development Council (NMSDC). The NMSDC offers debt refinancing in the form of a term loan or line of credit, from $250,000 to $750,000 with terms that may not exceed five years.
Loan programs are available to businesses that are:
NMSDC-certified minority businesses

Suppliers in NMSDC corporate member or government supply chains

At least three years old

Financially sound with an adjusted cash flow to debt service ratio of at least 1.25 times
Grants Available
Minority business owners can apply for grants to help them bridge the funding gap.
Here are grant programs available for funding and assistance:
For the SBA 8(a) program, socially or economically disadvantaged small business owners are eligible. The program provides business development help, management and guidance.
To qualify, a small business must be at least 51 percent owned and controlled by a citizen who has been subjected to cultural bias or prejudice. The business owner also must be placed at an economic disadvantage because of race or ethnicity.
To learn more about the different loan options with Stearns Bank, click below!