Did you know that only half of small businesses in America survive to the 5-year mark? Beyond that, a study by the U.S. Small Business Administration determined that only 1 in 3 small businesses will make it to the 10-year mark and live to tell the tale. While this may sound discouraging, by identifying the financial downfalls of other small businesses, you can create a financial plan that puts you on the path to success.
Whether you need to relocate into a new space, buy more equipment, or hire a qualified candidate, a Small Business Loan (an SBA loan) can help expand your business and position you for long-term success. As a Preferred SBA Lender, here are five examples of how a small business loan can fuel your big business dreams.
1. SBA Loans Offer Financial Flexibility
Are you prepared with emergency funds for your small business? Surprisingly, a lot of business owners are not. According to the same National Small Business Association study, one-quarter of small business owners claim they cannot obtain the funds they need to operate their business.
Without the capital to buy inventory, continue production, or pay wages, a company cannot exist. Not only does a lack of cash flow prevent small businesses from achieving their goals, but it also adds an unnecessary amount of stress and anxiety to the operation. Business owners can use SBA loans to continue operations while preparing for unforeseen financial hardships.
Here are some common gaps in cash flow that can be covered with an SBA loan:
Seasonal drop-offs
Unforeseen business expenses
Payroll expenses
Changes in supplier pricing
Emergencies or unexpected circumstances
2. SBA Loans Fund New Equipment
Sit back and reflect on the bottlenecks in your business. Are there areas of opportunity to improve productivity, customer and employee satisfaction, or day-to-day operations? Many small business owners find that investing in new equipment is the first step to increased efficiency.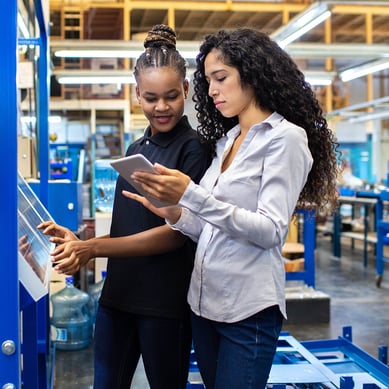 When you use an SBA loan to purchase new equipment, you are bringing your business to the forefront of technology and enabling the organization to reach new customers and offer new products or services. An approach like this increases your margins and sends the value to the bottom line.
Here are some of the standard products you could purchase with an SBA loan:
Vehicles
Machines
Equipment tools
Computers & Software
3. SBA Loans Open the Door to Expansion
Are you waiting on something to expand your business? Perhaps you're hoping to hit a particular milestone or reach a certain amount of capital before taking the next step. But what if, by then, it's too late?
One of the biggest mistakes a small business owner can make is underestimating the time and effort that goes into expansion. Waiting too long to move forward can lead any business down the path to failure. In a world where lack of planning and action are two primary reasons for a small business failure, your organization must meet its current growth demands.
Here are some examples of how an SBA loan can fuel business expansion:
Expanding your brand into new markets
Product launches
Buying or leasing real estate in new cities
Purchasing neighboring real estate to expand a current location
Hiring more employees to support business growth
4. SBA Loans Refinance Expensive Debt
Have you used "quick cash" funding for your small business in the past? With so many options out there, it can be tempting to turn to them in a cash-flow crunch. But this business debt often comes with a cost. The reality of high-interest rates and unreasonable payment terms can leave your business in a bigger hole than before.
In this instance, small business owners can use SBA loans to refinance existing debt. When done correctly, refinancing a business loan can improve your business's monthly cash flow while consolidating and lowering your monthly payments.
Here are some examples of current debts that can be refinanced with an SBA loan:
Contract buyouts

Consolidation of equipment contracts

Real estate with balloon payments
5. SBA Loans Set You Up to Sell
Are you hoping to sell your business down the line? If so, you will most likely want to scale your business in the hopes of maximizing the final sale price. From training team management to streamlining your systems, getting a business up to peak efficiency can be a complex (and expensive) process.
An SBA loan can provide you with the financial opportunity to maximize business value. Here are just some of the ways an SBA loan sets you up for eventual sale:
Improving a site (landscaping, grading, streets, parking lots, or structural changes)

Constructing or purchasing new buildings

Improving or producing products

Keeping equipment up-to-date



Before selling your business, talk to your lender about the details of your succession plan. SBA loans cannot be transferred from one business owner to the next; however, new business owners can seek SBA loans for future expansions.
How to Get a Small Business Loan
As a Preferred SBA Lender, we have expertise in various SBA programs and can help guide you through the entire process — from eligibility to approval and funding. To get started, all you have to do is inquire online or set up a phone call with a Stearns Bank loan expert. From there, our team will walk you through the process, answering any questions that may arise.
Work With a Preferred SBA Lender
Many small business owners live with the misconception that SBA loans require heavy paperwork and extensive wait times. Although that may be true for some financial institutions, working with a Preferred SBA Lender like Stearns Bank allows you to sidestep the red tape to move through the lending process quickly and efficiently.
As a Preferred SBA Lender, our team has gone through the hoops to earn this status from the government, driven by the mission of helping small business owners like you to move forward. Here are some other examples of why you should apply for an SBA Loan from a Preferred Lender:
Loans approved with speed and precision
Loans up to $5 million approved in days
In-house approvals
Collateral options
Flexibility to re-approve changing budgets