Renewable energy has become a critical part of the electrical grid powering our homes, schools, businesses and factories. With the economy poised for recovery in 2021, energy demand will grow in lockstep.
That's why providers are investing in productive capacity for solar, wind and other forms of renewable energy. To promote investment in energy infrastructure, the federal government offers funding through the U.S. Department of Agriculture OneRD Guarantee Loan Initiative.
The USDA's Rural Energy for America Program (REAP) "provides guaranteed loan financing and grant funding to agricultural producers and rural small businesses for renewable energy systems or to make energy efficiency improvements.
Agricultural producers may also apply for new energy efficient equipment and new system loans for agricultural production and processing," according to the USDA overview.
The program is available to rural small businesses and agricultural producers. More specifically, loan applicants must be:
Agricultural producers with at least 50 percent of their gross income coming from agricultural operations
Small businesses in eligible rural areas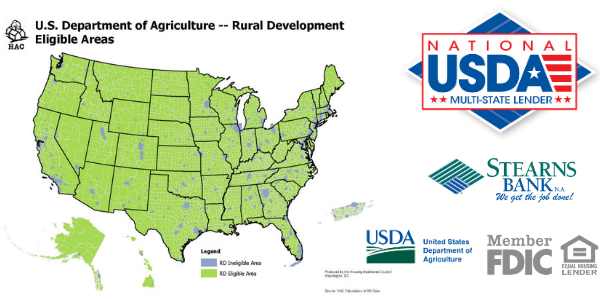 Sources for renewable energy are expanding, and technology is evolving. Renewable energy is an emerging industry and job creator that could lead the way for economic growth.
Currently, funding covers:
Biomass (for example: biodiesel and ethanol, anaerobic digesters, and solid fuels)
Geothermal for electric generation or direct use
Hydropower below 30 megawatts
Hydrogen
Small and large wind generation
Small and large solar generation
Ocean (tidal, current, thermal) generation
The types of projects and improvements covered by the program can include:
High efficiency heating, ventilation and air conditioning systems (HVAC)
Insulation
Lighting
Cooling or refrigeration units
Doors and windows
Electric, solar or gravity pumps for sprinkler pivots
Switching from a diesel to electric irrigation motor
Replacement of energy-inefficient equipment
Agricultural producers may also use guaranteed loan funds to install energy efficient equipment and systems for agricultural production or processing.
To qualify for the USDA REAP program, the project must be located in an eligible area:
Businesses must be in located in rural areas with populations of 50,000 residents or less.
Check eligible business addresses.
Agricultural producers may be in rural or non-rural areas.
Besides location and eligibility, there are other considerations in financing your renewable energy project. Working with an experienced lender, such as Stearns Bank, you can evaluate your financing needs and goals, project timeline and projected cash flow. Your lender will carefully review your needs and collaborate with you on a customized financing solution.
A lender experienced in government-guaranteed loan programs can give valuable assistance. As a Multi-State USDA Lender, Stearns Bank has in-depth knowledge of the USDA OneRD program. If we determine that a USDA loan is right for you, Stearns Bank can process your USDA loan directly with federal agencies. This enables us to move fast, clear administrative hurdles and avoid delays at the local level.
Look for a lender that offers personal service and individual attention. With Stearns Bank, you will work closely with an experienced lender who can help you understand requirements of the USDA loan program and avoid snags that can delay your loan.
Stearns Bank is a full-service lender, so our dedication doesn't stop when the loan closes. Rather, we are committed to serving you through the term of your loan, helping resolve problems and overcome challenges.