Adam Denny and Markus Denny have a bloodline that runs strong within the United States military.
Stearns Bank invites you to meet two of our military veterans. Adam is a business development supervisor and Markus is an account manager at the Stearns Bank Equipment Finance Division in Albany, Minnesota.
For the Denny brothers, It all started with their great-grandfather, George Washington Denny, who fought in World War I as an infantryman.
Both of their grandfathers, their father and one of their uncles all served their country, along with their little brother, who is currently serving.
"My family serving was the biggest influence on me," Adam said. "You see that your grandpas were both soldiers, your dad was a soldier and so was one of your uncles. We're proud to say we're a military family."
To South Korea And Back
Adam, the oldest of seven children, joined the Minnesota National Guard in April 1994 when he was just 17. After graduating from high school in 1995, he transitioned to the regular Army. His first duty station was in Fort Campbell, Kentucky, with the 101st Airborne Division.
Following his stay in Kentucky, Adam was transferred to the 2nd Infantry Division for an 18-month tour at Camp Greaves, located along the demilitarized zone in South Korea.
Despite being so far away from home, Adam felt comfortable with his place in the Army.
"Markus and I grew up hunting and playing in the woods. And, we always got up early and worked hard. That's what our parents taught us. We were both three-sport athletes and the fitness aspect was easier coming out of high school for both of us," Adam said.
"When you're in the service, it just makes life easier if you can carry your own weight, and maybe a little extra."
From his start in the military, Adam learned what it meant to be a leader and teammate. He was part of an infantry unit were everyone looked out for one another.
"Being in the Army teaches you leadership and that there are two kinds of leaders: "Follow Me" or "Move Forward". Ones who lead from the front – "Follow Me" – are the best. They are right there with you leading by example. I still respect that type of leadership.
Adam came home from South Korea in August 1998 and finished out his time in the Minnesota National Guard until he was honorably discharged in 2002. He got to see many different parts of the world including Germany, France, Austria, Japan, and South Korea. He treasures that experience.
"We're from the middle of Minnesota," Adam said. "Sure, everywhere we went was for training, but those are places I never would have visited otherwise. I met so many people from all over the world with different points of view. You learn something from all of them.
On The Front Line In Afghanistan
At first, Markus wasn't sure if he wanted to join the military. A few weeks after starting college, he and the rest of the nation were shocked by the September 11, 2001, terrorist attacks. That experience clinched it for Markus: It was his time to serve.
"I was on the fence before then," he said. "College just wasn't going to be a fit for me at the time. This was my sign."
He enlisted in December 2001 and did his basic training in Georgia. His first duty station was at Schofield Barracks (Hawaii) with the 25th Infantry Division and the 2/27 INF Wolf Hounds. It was the same station where his grandfather had served.
"Schofield Barracks is very iconic because it's right where the Pearl Harbor attacks were. It was basically like serving in a museum," Markus said.
His first unit deployment happened in January 2004 to Afghanistan. He spent more than 14 months in Afghanistan before returning home. While in Afghanistan, his unit was stationed at Orgune E, the most forward operational base near the Pakistan border.
"It was the far east corner of Afghanistan. It was the real deal out there," Markus said. "It was a culture shock when I got there. The poverty was eye-opening. It was the Wild West and survival of the fittest."
Markus' deployment taught him about his mental and physical limits.
"It doesn't matter how strong you are, or how hard you train. If you're in the wrong place, at the wrong time, it's your time. You figure out how strong you are, mentally and physically," he said. "You learn unity with your brothers when you're in that environment.
"It was a very humbling experience. I'm glad I did it and I'm glad I was there when I was there. I knew I had to man up, serve my country and get the job done."
Markus returned home in August 2005.
Coming To Stearns Bank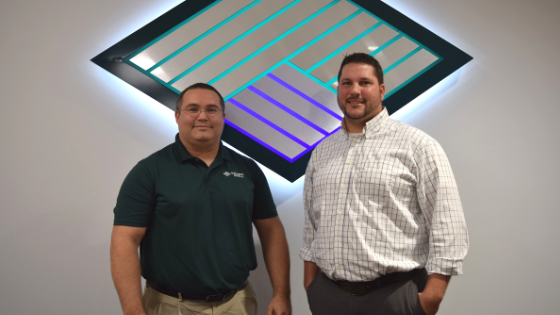 Adam Denny (left) and Markus Denny at Stearns Bank's Equipment Finance Division in Albany, Minnesota.
After working various sales jobs, Markus was hired at Stearns Bank in May 2018. After experiencing the culture at Stearns, he called his brother and encouraged him join him at the Equipment Finance Division. Adam was hired in August 2018.
"I talked to my kid brother and he said you have to come here. He was right about everything," Adam said. "The team aspect is second to none at Stearns Bank. We're a small unit, but it feels like we're part of a big one, working together."
The brothers use volunteer time through Stearns Bank's benefits package to help out with veteran charities and outings.
Markus volunteered for a hunt with disabled veterans at Camp Ripley (Minnesota) and Adam plans to volunteer at Eagle's Healing Nest, a non-profit organization committed to meeting the needs of veterans and their families located in Sauk Centre and Anoka, Minnesota.
"We've been encouraged to volunteer for these veteran outings," Markus said. "That means a lot to us."
Stearns Bank encourages everyone to honor our military veterans on Veterans Day, November 11. Thank you to everyone who has served our country.