Rapid Robert Construction & Tree Services has been in business for over 30 years. The business is located in Church Point, Louisiana, and specializes in tree pruning, removals and stump grinding.
Tammy Brown has been working as the office manager for Rapid Robert Construction & Tree Services for more than 10 years. She said the success of the business all stems from the strength of its owner, Robert Fee.
"Robert has an unusually strong work ethic, good leadership and guidance skills. We are also first responders and often perform storm recovery work."
Robert worked in New Orleans under the U.S. Corps of Engineers during Hurricane Katrina (in 2005). Out of more than 265 tree crews that worked for the Corps, he was ranked in the top six.
"Under their strict guidelines, that says a lot about the man," Tammy said.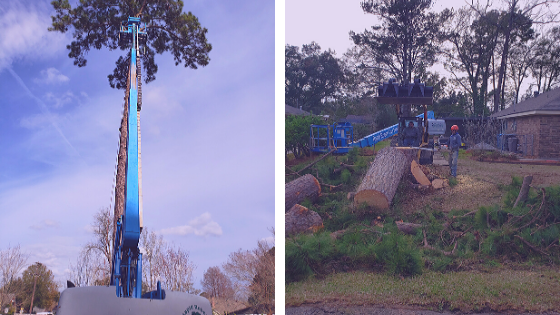 Robert Fee and Rapid Robert Construction has financed two man lifts and a stump grinder with Stearns Bank in addition to opening a business banking account. (Photos provided by Tammy Brown)
Dealing With COVID-19
When COVID-19 started affecting the business in March 2020, Tammy and Robert decided to be out front about how important it was for their employees to practice social distancing. Tree service is considered essential service.
"We have seven families that live under our business that we need to take care of so we decided to proceed with great caution. We had meetings about how to be safe. I made sure to put hand sanitizers in our trucks," Tammy said. "Our crew is small. We usually have a man up in the lift cutting, one man on the ground raking, one in the loader loading debris and another man in the truck hauling debris.
"Luckily, their normal job operations have always been within the social distancing guidelines."
Tammy is also reminding employees that they need to wash their hands as much as possible when visiting a convenience store during the day.
"That's where they can get exposure, whether touching a gas pump handle or something inside the store," she said. "I keep telling our guys to stay six feet away from people. We want to make sure they wash their hands before they leave the store and also use the hand sanitizer when they get back in the truck. I'm doing whatever I can to put as much hand sanitizer around them, including in the truck tool beds."
Rapid Robert Construction & Tree Services has also had to deal with the slowdown of the business since COVID-19 hit the United States. Customers have been canceling jobs due to virus fears and Tammy is trying to maintain the business's cash flow.
With cancellations mounting, Tammy, who schedules appointments, isn't sure how long it will last.
Working On Remedies With Stearns Bank
Rapid Robert Construction & Tree Services is a Stearns Bank customer. Tammy has worked with equipment finance account manager Ryan Anderson on three different transactions, including a stump grinder and two man lifts.
To help maintain a healthy cash flow, Tammy worked with Ryan to defer payments for that equipment through June. Tammy is hopeful that business will rebound in the near future.
"It only took one phone call and an email to get those payments extended out," Tammy said. "That was a big relief for me and Robert. The necessary forms were emailed to us and all it really took was a click of a button with Stearns Bank and the payments were extended. This interruption of cash flow is not something I wanted to have happen.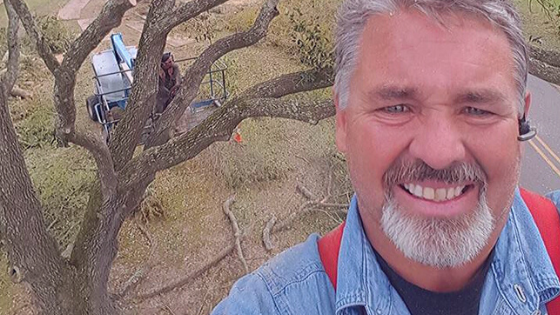 Robert Fee working in one of the man lifts he financed with Stearns Bank. (Photo provided by Tammy Brown)
"I consider my relationship with Stearns Bank something I want to protect. Stearns Bank is a very valuable asset in my toolbox of business operations."
Stearns Bank assists its landscaping, construction and manufacturing customers remain in the forefront by helping obtain new equipment.
"Newer equipment is always more efficient," Tammy said. "It's safer for our men, it's cleaner and more environmentally friendly. That helps increase customer satisfaction. Safety and job quality are very good things. As other pieces of equipment get older, Robert will have to replace it.
"Also, should we experience a major storm or even worse – a hurricane – we would need to add equipment then. I know if we need that equipment, Stearns Bank is going to help us."
Tammy would recommend working with Stearns Bank to any landscaping or manufacturing company. In fact, she already has.
"The thing with Stearns Bank is that it's a hometown feel. They want to keep working with you and check in with you. That is greatly appreciated by business owners," Tammy said. "They're not just financing a piece of equipment, they're also backing Robert Fee and his 30 years of experience."