In the world of payments and funds transfers, ACH is the common language that allows businesses and systems to communicate.
ACH means Automated Clearing House. It's also known by the different types of payments it implements, including direct deposit, electronic debit and credit cards and tax payments. At its most basic, an ACH transfer is a command to move funds from one bank account to another.
This command is created and fulfilled based on a complex set of rules designed to ensure simple funds transfers without errors while protecting financial data and preventing fraud. ACH rules are created and maintained by NACHA (National Automated Clearinghouse Association).
In 2020 alone, NACHA moved nearly $62 trillion in ACH transactions. "Same Day" ACH has undergone major enhancements every year since 2016. On March 19, the Same Day ACH program extended its hours, which is especially useful for financial institutions and their customers in western time zones for whom prior deadlines were often too early.
By the end of 2016, Same Day ACH payment volume reached 13 million payments for a value of $17 billion. In 2020, there were 347.2 million Same Day ACH payments totaling more than $460.1 billion.
NACHA's goal with ACH is "to move the ACH Network from today's single, next-day settlement to multiple, same-day settlement options that would be available for virtually any ACH Network transaction."
With new extended hours, the ACH Network now settles payments four times per day to any U.S. bank or credit union account.
For a small business, ACH has advantages over other options, including:
1. Improved Cash Flow
Rushing to the bank before it closes has become a thing of the past. With ACH payments, you receive funds on the due date and no later. And as the payer, you can hold onto your funds right up until the payment due date.
The greatest benefit from this is predictable cash flow. Same-day ACH provides a contingency option for emergency payrolls and missed payment deadlines.
2. Lower Costs
Dealing with paper checks every week can be more expensive than you think as a business owner. Disbursing payments with checks involves costs such as check printing, envelopes and postage. Those costs are eliminated using ACH.
Wire transfers can cost at least $20 or more to send. Unless a payment is urgent, ACH is more cost-effective than wire transfer.
ACH is a green alternative to writing and processing paper checks. Not only do you save trees by not using paper, the need to transport checks through the mail, or delivery service, is also eliminated.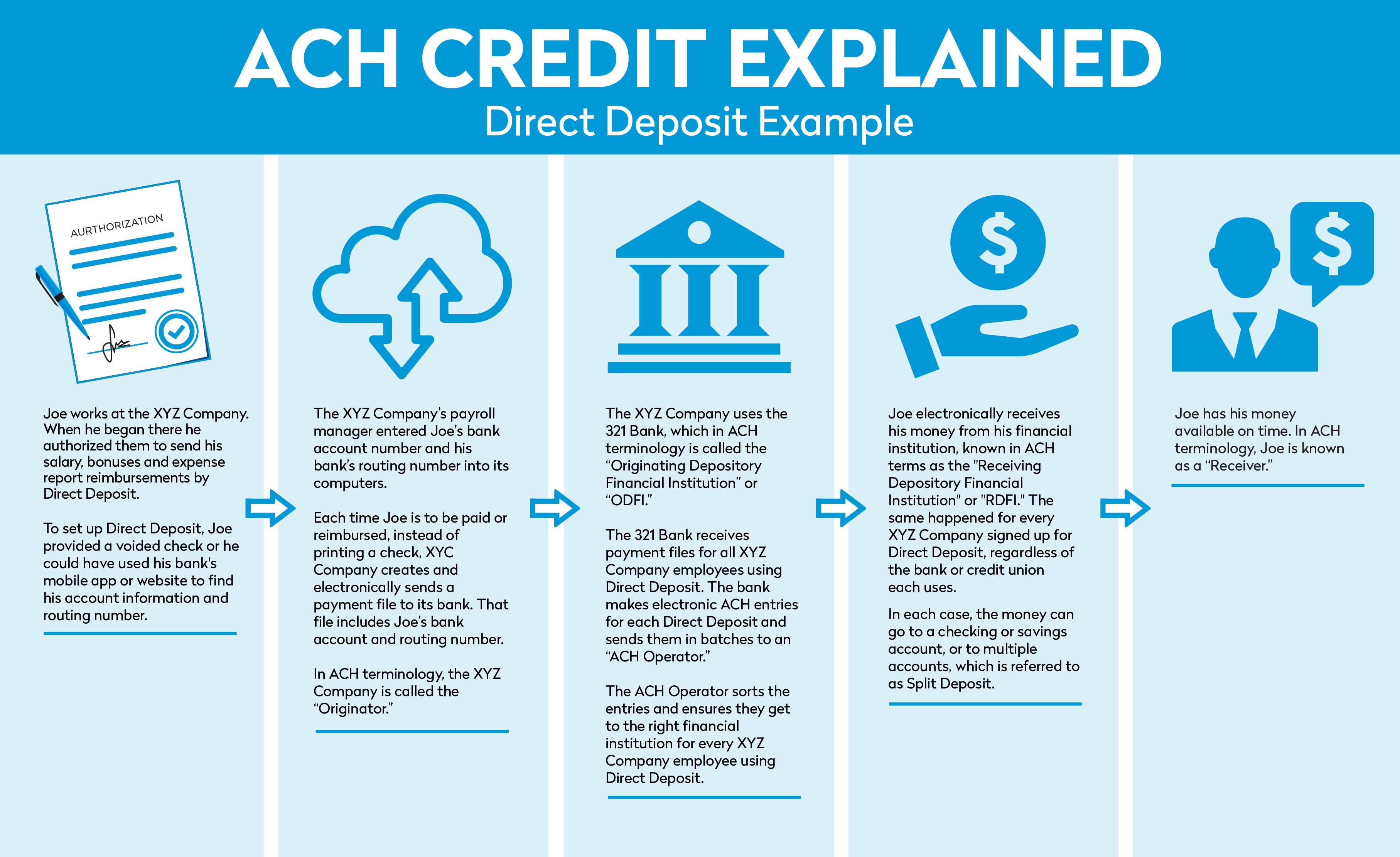 Graphic courtesy of NACHA
3. Flexibility And Reliability
Having your debits and credits scheduled in advance with ACH saves you time, instead of having to write out and process every paper check.
In addition, employees aren't tied down signing checks and running to the bank. Most employees love the convenience of payroll direct deposit because they don't have to make that weekly, or bi-weekly, trip to the bank.
4. Fraud Opportunities Dissipate
Your risk of payment fraud, including check fraud, by employees is much lower with ACH. Employers should always use dual controls when setting up vendors for ACH payments.
An untrustworthy employee could use an alternate bank account to make ACH payments to a fraudulent account.
Be sure to restrict employees' access to change ACH template record details to protect your business's payment detail. Ensure that your payroll system is secure and has internal multi-authentication in place to help avoid a cybersecurity threat.
You can streamline your cash management process by contacting Stearns Bank about the options we offer our customers, including remote deposit, mobile deposit, bill pay and merchant services. To learn more, just click below.