You've worked hard to earn every dollar for your small business. That's why you need FDIC insurance to protect your company's savings from bank failures. This federal protection covers deposits up to $250,000 per account owner per bank.
Knowing how FDIC insurance works helps you optimize your coverage so your business funds are fully insured. With the right deposit strategies, you can have peace of mind knowing your money is in good hands.
The Significance of FDIC Insurance
FDIC insurance was created in 1933 to restore trust in banks during the Great Depression. By insuring individuals and business deposits, it prevents destabilizing bank runs.

FDIC membership is a sign you can trust your bank. When you see the FDIC logo, you know your business accounts are protected up to $250,000. This includes checking, savings, CDs, and other deposit accounts.
Coverage and Membership
The FDIC protects a variety of business accounts including checking, savings, and CDs. Each separate account category at each FDIC bank is covered up to $250,000.
Banks pay to be FDIC members so they can provide this reassurance that your funds are fully protected. Strict audits confirm they have the financial strength to back up that guarantee.
Understanding FDIC Insurance
Use the FDIC's deposit insurance estimator to calculate coverage for your specific accounts. This gives you confidence in how much protection you have.
For most businesses, accounts will be within the $250,000 insurance limits. But it's important to verify this, so you can optimize coverage and know your savings are fully secured.
Managing Large-Balance Deposits
Our deposit insurance solutions start with understanding your needs. At Stearns Bank, our experts take the time to get to know you and your financial goals. We'll explore options to maximize FDIC coverage tailored specifically to your situation.
For balances over $250,000, we offer customized solutions to simplify protection. Whether strategically structuring accounts or utilizing our partnership with IntraFi Network, you get convenience and peace of mind.
Rest assured, Stearns Bank will find efficient ways to insure your hard-earned savings fully. With a personalized approach, we'll create a solution that provides confidence in every dollar you deposit.
Choose a Bank You Can Trust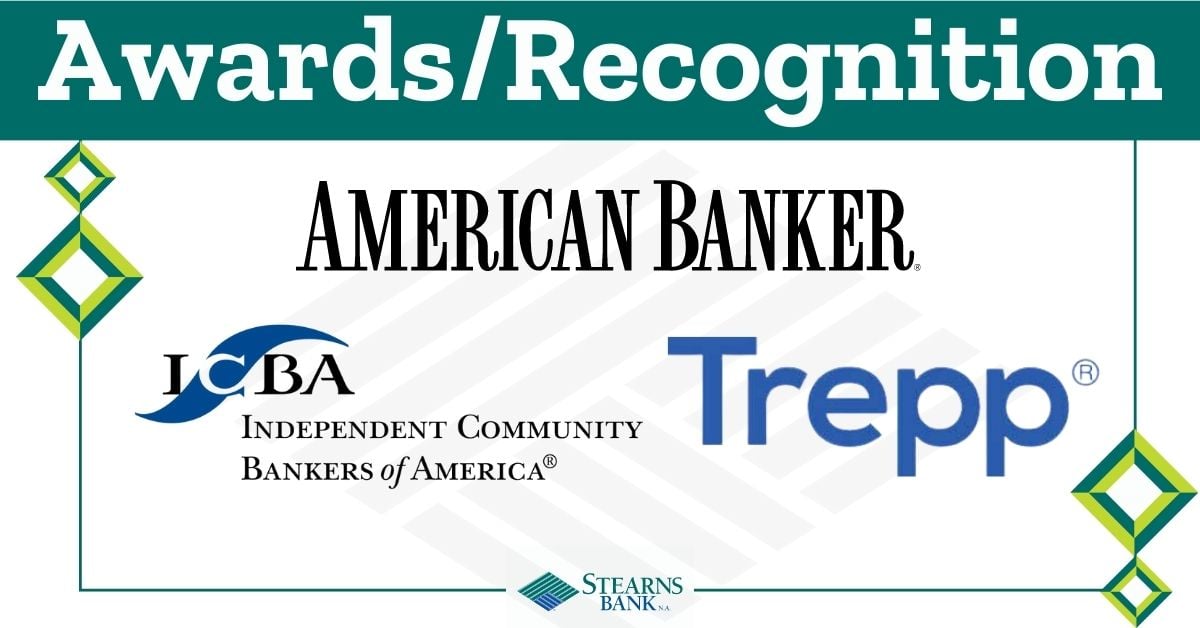 In times of economic uncertainty, choosing a financially secure bank is crucial. At Stearns Bank, we recognize that safety is top of mind for our customers right now. You can be confident your money is protected with us.
As an independent, privately-held bank, we operate with financial discipline. Stearns Bank maintains a "bulletproof" balance sheet and a Tangible Common Equity ratio that positions us in the top 1% for stability.
We take pride in our prudent management and resilience, which has earned Stearns Bank widespread recognition:
Ranked as a "Top Performing Bank in the Nation" by American Banker magazine from 2019-2022
Consistently ranked in Independent Banker's annual Best of the Best list among banks with more than $1 billion in assets
Cited by Trepp® as having one of the "most bulletproof" balance sheets, with capital levels far above peers
With our industry-leading financial strength, personalized service, and customized FDIC insurance solutions, Stearns Bank provides unwavering safety and confidence.
Contact us today to learn more about why Stearns Bank is a secure harbor for your deposits, even in turbulent times.