Black women are the most forceful entrepreneurs in the country, and studies prove it. From present-day movers and shakers like Michelle Obama and Oprah Winfrey to the historical Black female innovators that paved the way, Black women continue to impact the world by starting businesses, creating jobs, boosting the economy, and providing innovative products. Research by the Harvard Business Review unveiled that Black women make up the fastest-growing group of entrepreneurs in the United States. The article revealed that 17% of Black women are starting or running a new business, compared to just 10% of white women and 15% of white men.
Despite the fact that women entrepreneurs of color outnumber their white colleagues, systemic discrimination is so deeply rooted that they have difficult barriers to overcome. This was proven in the Harvard Business Review article, as it also uncovered the unsettling truth that Black women's businesses earn less revenue and remain smaller than their white counterparts. Institutional biases, credit market challenges, liquidity constraints, and countless other systemic barriers limit a Black woman entrepreneur's potential in our country.
When Black women entrepreneurs do not succeed, both our society and economy suffer. In order to address these inequalities, change is needed on a systemic level. While combating racial and gender inequity in the United States is a long-term and always-evolving effort, there are immediate actions that can help accelerate change. Addressing the four most common challenges that black women entrepreneurs face is a great place to start.
1. Access to Capital
Starting a business is no small feat. The long hours, grueling effort, and unexpected challenges certainly take their toll on any entrepreneur. This is why nearly 20% of small businesses fail within the first year. As mentioned before, these odds are even worse for Black female entrepreneurs. What's the reason behind this stark disparity? Lack of equity — the capital necessary to start a business.
Historically, Black Americans have faced discriminatory policies and practices that were foundational in creating a lack of access to financial services, compounding into a racial wealth gap within our country. Even in 2022, the earning power of Black households trails behind that of white households by 39%. And when you intersect this wealth gap with the financial inequities females face in the workforce, Black women entrepreneurs find themselves facing an onslaught of prejudicial headwinds.
Capital is critical to starting a new business. Entrepreneurs need money to invest in their ideas, expand operations, and bring their dreams to fruition. But Black women entrepreneurs face a disproportionate lack of access to capital when building their businesses.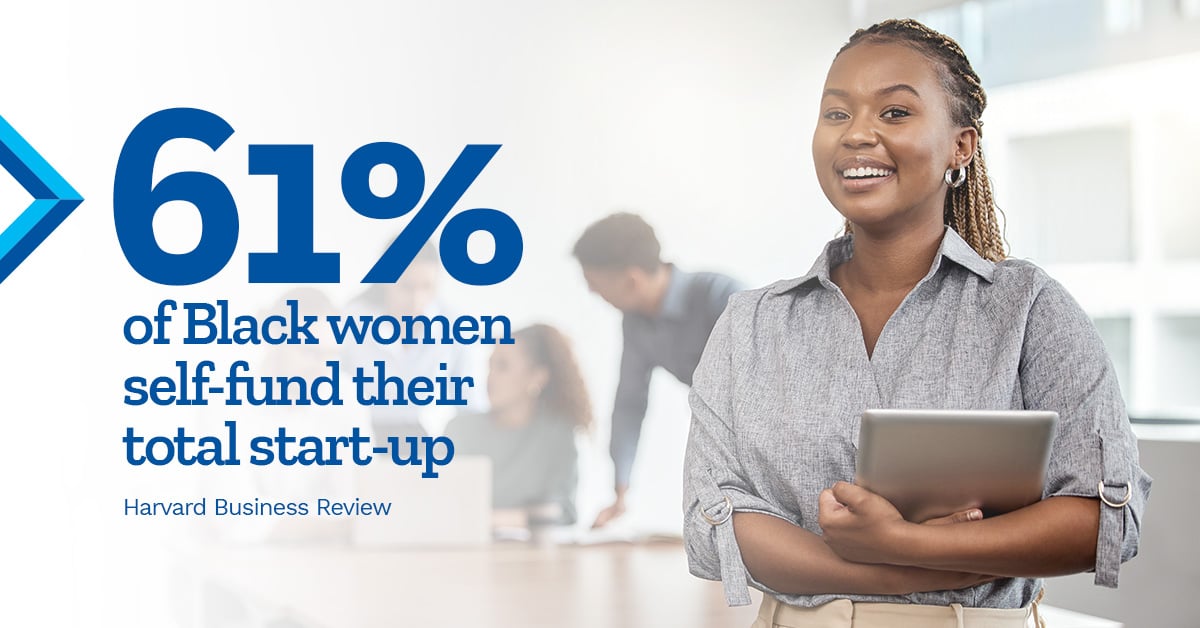 The Harvard Business Review Study found that 61% of Black women self-fund their total start-up, even though only 29% of Black women entrepreneurs live in households with incomes over $75,000 (compared to 52% of white men). This impressive ability to self-fund speaks to the high level of entrepreneurial acumen that Black women continue to display. Correlating data showed that Black people take on a higher level of debt to go to college and are less likely to own their homes. This would further suggest that educated Black women are burdened with debt, have fewer personal resources, and have less collateral. The sum of these financial disparities often prohibits Black women entrepreneurs from accessing the adequate capital to sustain a thriving business.
2. Prejudice From Conventional Lenders
The trend of Black women entrepreneurs self-funding their total start-up is likely due to the fact that institutional racism and systemic bias make it difficult to secure funding from anywhere else.
Black women business owners who apply for funding face a 3x higher rejection rate than that of white business owners. On top of that, only 2% of venture capital funding in the United States goes to female-only founding teams. The intersectionality of these obstacles makes it that much more difficult for a Black woman entrepreneur to obtain critical funding.
Carmen Tapio, founder of the largest Black-owned business in Nebraska, spoke about her personal experience of facing prejudice from lenders as a guest speaker at the Federal Reserve Bank of Minneapolis' virtual event, "Racism and the Economy."
Even though Tapio is an influential local businesswoman with a perfect credit score of 850, she could not find a bank willing to provide a Paycheck Protection Program loan for her business. Three years earlier, Tapio was also inexplicably denied a line of credit for her profitable teleservices business.
"Decisions that were made decades ago in some instances...can put real constraints on the ability of entrepreneurs of particular races from participating in the systems and the programs that are out there."

- Carmen Tapio
As she was recounting the story, Tapio focused on the fact that small-business owners of color have systematically been denied access to credit. This has made it nearly impossible to build the wealth required to start or grow a business.
3. Lack of Support
Many people don't understand just how much mentorship can influence an entrepreneur's success. CJ Cornell, an entrepreneur and professor at Arizona State University, highlighted this in his book, "The Startup Brain Trust." His data revealed three key findings:
75% of high-growth entrepreneurs had mentors.

Mentored entrepreneurs raised seven times more capital and had 3.5 times more user growth than unmentored entrepreneurs.

If their founders were mentored, 70% of small businesses survive longer than five years (double the rate of those who were not mentored).
For Black women entrepreneurs to be able to overcome systemic barriers and racial challenges, they need additional support and mentorship. Unfortunately, it's not that easy.
Because there aren't enough minority women in leadership positions, Black women entrepreneurs struggle to find this critical mentorship. The higher minority women climb in their careers, the more isolated they become. Over time, this lack of support and camaraderie would wear anyone down.
Mentorship opens doors, creates opportunities, and provides connections that can help other Black women entrepreneurs succeed. Contrary to popular belief, hard work and pulling oneself up by the bootstraps is insufficient to succeed when systemic hurdles and racial biases disproportionately affect certain demographics. Black women entrepreneurs need a network for support — now more than ever before.
4. Burnout
Burnout is a trending topic that has recently been featured across a variety of publications, from Buzzfeed to Forbes. The World Health Organization even recently upgraded its definition of burnout, calling it an occupational phenomenon caused by "chronic workplace stress that has not been successfully managed."
Burnout is a serious concern affecting millions of people daily, especially entrepreneurs. A Harvard Business Review study from 2018 showed that "entrepreneurs are at more of a risk of burnout because they tend to be extremely passionate about work and more socially isolated, have limited safety nets, and operate in high uncertainty."
When looking at burnout, one would be remiss not to consider all of the external factors at play. Privilege, for example, lessens the weight of burnout, making it easier to switch jobs, seek mental health help, or rely on a financial safety net. On the other hand, Black women have to overcome the everyday struggles associated with owning a business on top of the racial and gender bias against them.
Sagashus Levingston, an author from the south side of Chicago, founded Infamous Mothers — a group aimed to empower Black stigmatized women through motherhood. In a 2019 interview with the Cap Times, Levingston discussed how her identity as a Black single mother enhances her experience of burnout by saying: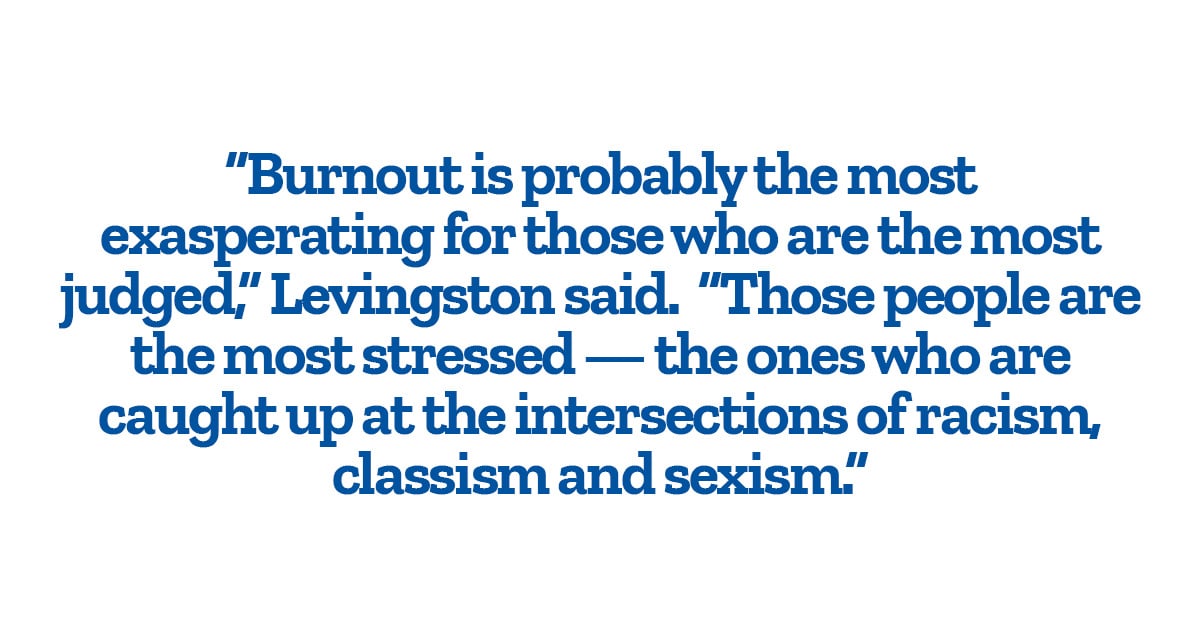 When it comes to increased stress and mental health concerns, the cultural trope of a "strong Black woman" can cause more harm than good. It reinforces the damaging stereotype that Black women are tough and emotionless while dehumanizing them and taking away their ability to express vulnerable emotions.
The unrealistic expectation for a Black woman to be strong in the face of adversity further exacerbates the detrimental symptoms of burnout caused by racially-driven stigmas and stereotypes.
How Stearns Bank Is Equalizing Opportunities for Black Women Entrepreneurs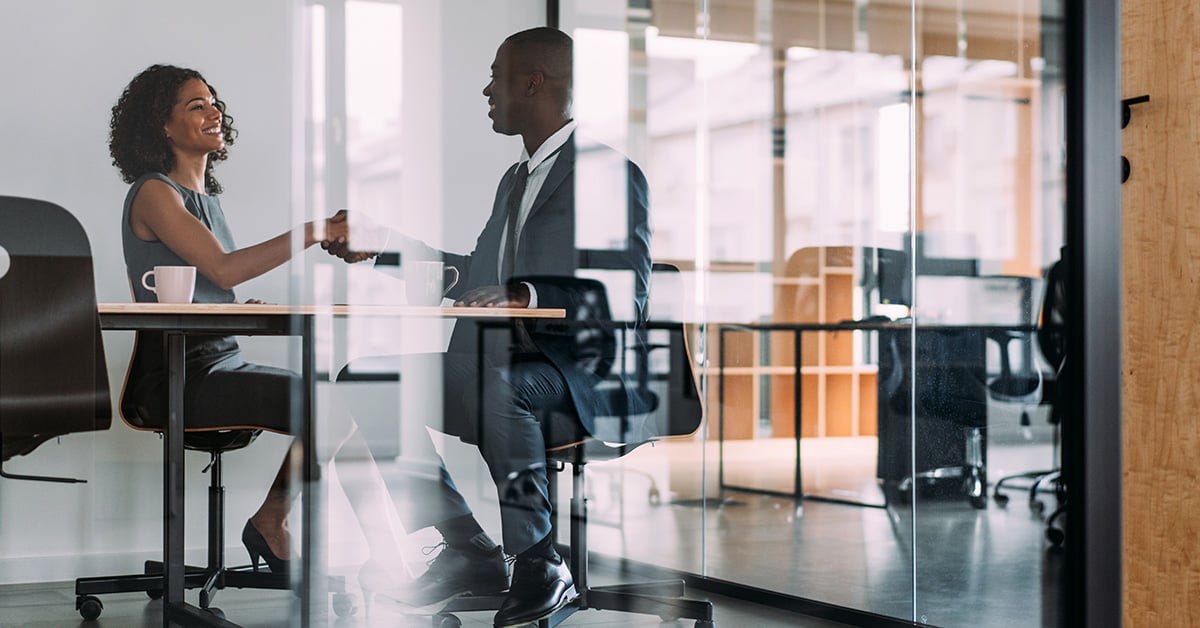 To most people, it's clear to see that the ongoing issues of racial inequality spanning hundreds of years are still very prevalent in present-day society. This has not stifled Black women's entrepreneurial spirit, catching the attention of various organizations, financial institutions, and even the government.
On top of various SBA programs intentionally created to support minority-business owners, banks have begun devising plans to overcome traditional barriers to lending. Although no single person, institution, or effort, can absolve these challenges, these small movements can make a difference.
With a commitment to expanding capital and banking services to underserved communities, Stearns Bank formed a partnership with the African Development Center (ADC). Together, the collaboration strives to grow businesses, build wealth, and increase reinvestment in Minnesota's African American and African immigrant communities.
Stearns Bank also remains dedicated to reducing barriers that prevent full, equal, and fair participation in the nation's economy through Project REACh (Roundtable for Economic Access and Change). With Project REACh, Stearns Bank's President and CEO, Kelly Skalicky, joins leaders from the banking industry, national civil rights organizations, and businesses to promote financial inclusion through greater access to credit and capital.
"I believe in Project REACh's mission, and in MDIs as an essential part of our banking system. As banks, none of us can do everything needed to serve minority communities, so we have to do a good job of partnering together so we can serve customers better."
- Kelly Skalicky, Stearns Bank President and CEO
Lastly, Stearns Bank implements a holistic approach to lending instead of fixating on an entrepreneur's credit score. This effort, combined with promoting financial literacy and seeking partnerships with Black women-led organizations, brings actionable change to the systemic bias facing Black women entrepreneurs.
Although Stearns Bank may not have the power to change the world, the organization understands that a financial institution's lending capabilities can change lives. This is why the lending team views every customer as a person, not a credit score or financial situation. Stearns Bank takes the time to get to know you and the struggles you are overcoming every day.
If you own a small business or are interested in securing funding to start one, give the Stearns Bank lending team a call —somebody will answer on the very first ring!