Remembering Norm
Posted on: Nov 21, 2021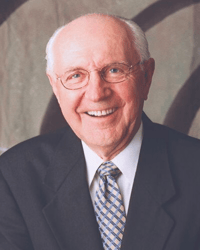 St. Cloud, Minn. (November 21, 2021) – An incredible chapter of the Stearns Bank story concluded on November 7, 2021, when Stearns Bank National Association founder and Chairman Emeritus, Norman C. Skalicky, passed away.
Remembered as an industry pioneer, a steadfast leader and generous contributor to numerous worthy causes, Skalicky was a keystone in the establishment and continued strength of Stearns Bank. Over the course of decades, he created and fostered a culture of success that remains deeply engrained in every aspect of the company.
Legendary Growth and Innovation
Skalicky was born in Brocket, ND in 1934 and learned the value of hard work early on, helping on the family farm as he attended school. He graduated from the University of North Dakota, Grand Forks, in 1955 with a degree in accounting before serving in the Army as a Lieutenant.
Through opportunities presented and others that he pursued, Skalicky began his career in insurance and eventually moved his family to Albany, MN, where he'd accepted a job as an insurance agent at the Stearns County State Bank. In 1964, he purchased a majority interest in both the Stearns County State Bank and First State Bank of Albany, which he combined into one national bank in 1965.
As a lifelong learner and believer of constant evolution, Skalicky was intrigued by new niches and constantly explored shifting demands and opportunities. In 1976, he created a financial leasing operation that has grown to become one of the industry leaders in equipment finance, with thousands of repeat customers in the agricultural, construction and medical industries. In 1984, Skalicky formed an employee stock ownership plan that today owns 23 percent of the organization, with Stearns Bank's more than 460 employee-owners vested and committed to delivering for customers with speed and personalized service.
With Skalicky's focus on maintaining strong capital that today is two times greater than its peers, Stearns Bank was better prepared when the financial markets crashed in 2008. The bank was well-positioned to assist the FDIC with failed banks, successfully completing 10 transactions with the FDIC to take on over $2.1 billion in assets and $1.5 billion in deposits from failed banks in 2009 through 2012, expanding the bank's footprint to include Arizona and Florida.
By the time of Norm's passing, Stearns Bank had become well-recognized nationwide as a strong financial institution with a bulletproof balance sheet and a high performer consistently achieving year-over-year top rankings as one of the top performing banks in the nation.
Kelly Skalicky, president and CEO of Stearns Bank and Norm's daughter, said, "The impact that Norm has had not only on the organization but in the greater community is legendary. He redefined community banking, developing a nationwide lending platform using the most advanced technology at the time – the landline phone and fax machine – long before branchless banks and fintechs became a part of the banking industry lexicon."
She credits Norm for Stearns Bank's continued high-performance and award-winning culture, saying "Norm was a true innovator who infused our company with entrepreneurial spirit and a culture of success."
Igniting Community Spirit
Norm's greatest impact was made through philanthropy. He had a passion for improving the lives of others and gave generously.
A remembrance article from the Boys & Girls Clubs of Central Minnesota, noted, "Norm always deflected recognition. He was humble and kind and always gave all the credit to Boys & Girls Club's amazing staff, who are the daily difference-makers that Norm knew were critical to the healthy development of our community's youth."
Among his many honors, which he always accepted with great humility, Norm received the Boys & Girls Clubs of Central Minnesota's Champion of Youth Humanitarian Award in 2013 and was awarded the Thomas A. Ritsche Lifetime Commitment to Caring Award in 2019.
Norm carried on his dedication of helping others through the Norman C. Skalicky Foundation, supporting the efforts of many organizations, including: Catholic Charities, Habitat for Humanity, The Salvation Army, United Way, various food shelf organizations and disaster relief efforts.
An announcement from True Friends, following a 2019 contribution, quoted Norm as saying, "Stearns Bank has always been passionate about giving back to the community, even more so to those needing a helping hand."
Although he heavily supported those in Central Minnesota, Norm never forgot his roots and was proud to share his entrepreneurial success with those that helped pave his path, including the University of North Dakota. According to his alma mater's news outlet, UND Today, Norm was a member of UND's William Budge Circle, a group recognizing donors who have given between $1 million and $5 million.
Carrying on Norm's Legacy
Throughout his life, Norm's drive and determination were constantly apparent. The culture of Stearns Bank grew from Norm's high expectations, his willingness to be different and his focus on financial discipline.
For decades, the adage, "We get the job done!" has gone together with Stearns Bank. And, while it is a catchy phrase, inspired by Norm, it should be noted that these words are much more than a slogan – they are the epitome of Stearns Bank.
As Kelly Skalicky said in October 2021, "Norm has raised the bar for everyone, and is held in the highest regard throughout the banking and financial industry."
The culture created by Norm is thriving at Stearns Bank. He shaped an elevated set of values, which are standard in the culture of the company and through these values, the Stearns Bank team is honored to carry Skalicky's legacy far into the future.
About Stearns Bank N.A.
Minnesota-based Stearns Bank National Association is a $2.2 billion, independently owned financial institution with locations in Minnesota, Florida and Arizona, and over 35,000 small business customers nationwide, in every state across the U.S. Recognized as having a bullet-proof balance sheet with 20% capital and earning top rankings as one of the nation's highest-performing banks by American Banker, and most recently ranked ninth in the U.S. among banks having more than $1 billion in assets by Independent Banker's May 2021 Best of the Best ranking of banks with the highest 3-year average return on assets, Stearns Bank specializes in nationwide commercial construction lending, USDA and SBA lending, and small business and equipment financing. Driven by a passion to help others achieve their greatest ambitions, Stearns Bank's mission is to Get the Job Done! For more information, visit StearnsBank.com.
Media Contact
Rory Bidinger
Roryb@stearnsbank.com