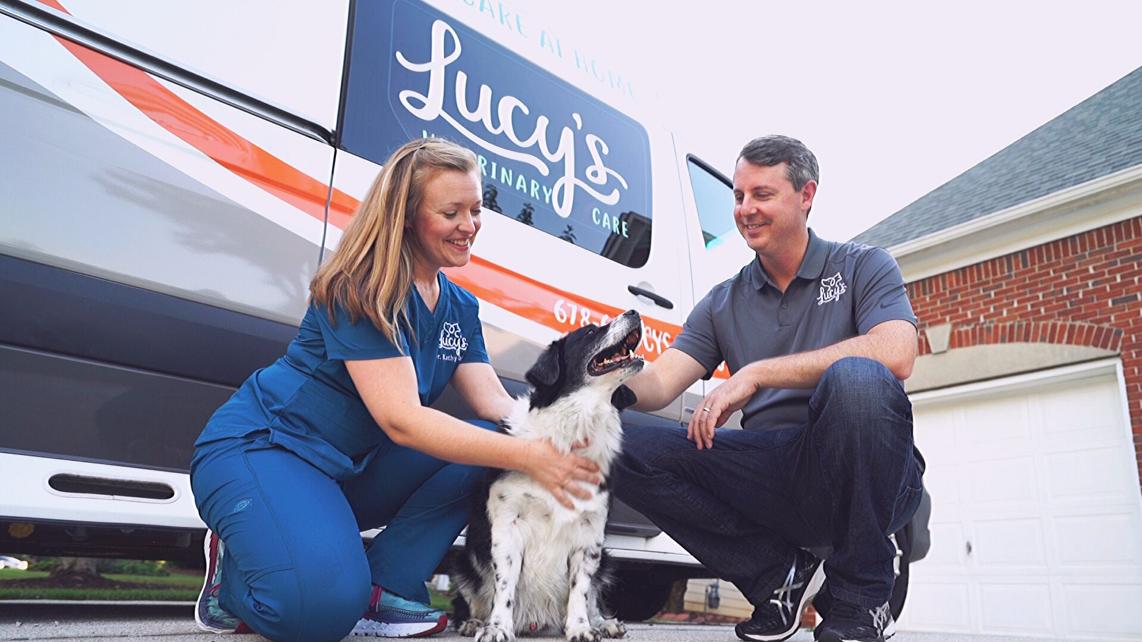 Mobile Veterinarian Teams Up With Stearns Bank For Equipment Financing
Dr. Kathy Baker and D.J. Baker
Atlanta, GA
equipment finance
entrepreneurs startups
When starting a small business, flexibility on your equipment loan and repayment terms can help ensure a successful beginning.
When D.J. Baker and his wife, Dr. Kathy Baker, were starting Lucy's Mobile Veterinary Care from the ground floor in 2017, the option of a three-month, no-payment window while they built up their client base was a no-brainer.
The Bakers were able to work out a customized payment plan with Stearns Bank that allowed them to do exactly that.
"Being able to customize our terms with Stearns Bank was amazing," D.J. said. "We were starting from the ground up with zero customers. Having time to establish our customer base was crucial. We didn't want to dip into capital right away. We wanted to have a cushion to build up. We're saving $5,000 up front and using that for savings down the road."
Lucy's Mobile Veterinary Care, located in the Atlanta (Georgia) area, opened for business on April 1, 2018. The Bakers are building brand awareness and trying to get the word out about their services. Since there aren't many mobile veterinarians in their area, they already have a leg up on things.
"People really don't know that having a mobile veterinarian is an option," D.J. said.
Kathy previously worked at a veterinary practice for 15 years. However, her commute began to interfere on a healthy work-life balance. Having a mobile clinic, along with scheduling flexibility, made more sense for the Bakers.
"The whole having a full-time job with a family isn't easy," D.J. said. "We're hoping to get a better work-life balance for Kathy this way."
One example of the work-life balance improvement for Kathy was accompanying her daughter, Lily, during a practice school bus ride the day before she started kindergarten. With her previous position, Kathy would have been working and not had the flexibility to participate.
The Bakers not only financed their van with Stearns Bank, they also financed equipment such as their X-ray machine and generator, an ultrasound machine and other lab equipment.
Without the financing from Stearns Bank, D.J. believes their clinic wouldn't have been able to get things moving as quickly as they did.
"I have a day job and we can only really communicate on nights and weekends," he said. "Being able to communicate outside of normal business hours with Stearns Bank was ideal for us. If it weren't for them, we wouldn't be here today."
D.J. would recommend Stearns Bank to other veterinarians looking for the right financing relationship.
"I don't know why any vet wouldn't use Stearns Bank," D.J. said. "I would absolutely come back again."
Lessons Learned
Work with an equipment lender that understands your profession and unique familial needs
Customized payment options like delayed payments for a new practice can help you save money up front while trying to build up your customer base
Creating a strong cash flow early as a small business owner will help you establish credibility with your financial institution