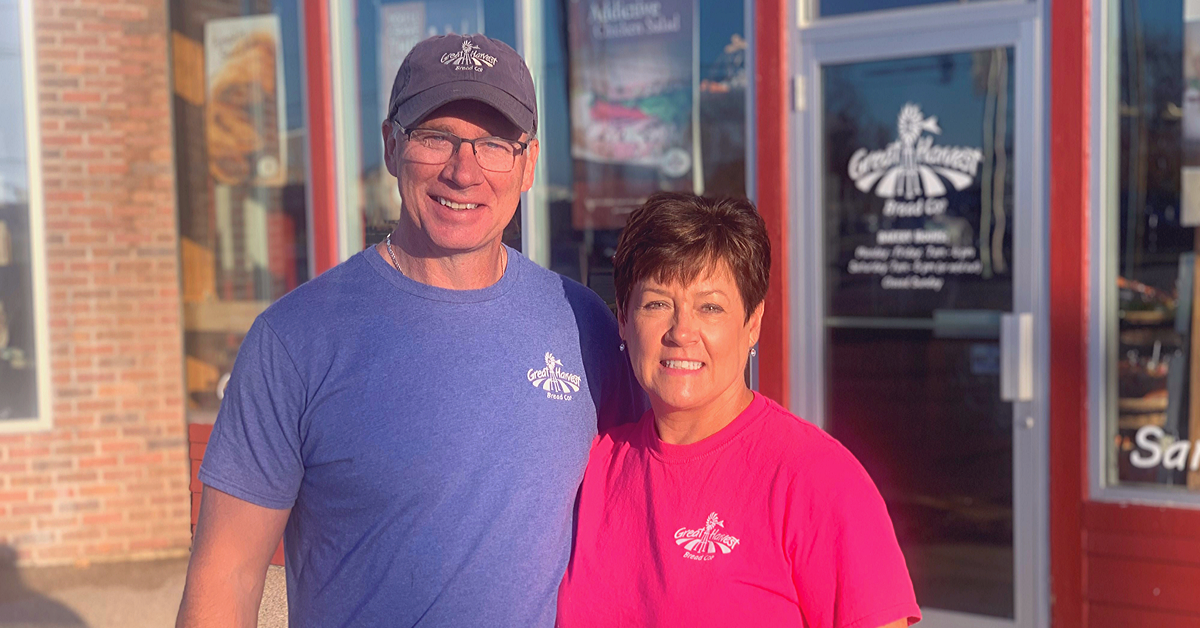 How A Stearns Financing Relationship Turned Into a Friendship
Mike and DeNae Hiltner
Waite Park, MN
sba
entrepreneurs startups
business banking
Mike and DeNae Hiltner didn't have a lot of believers when they were looking for franchise financing options in 1999.
The Hiltners were starting a Great Harvest Bread Co. store and were looking to purchase land to start the business in the St. Cloud (Minnesota) area. Initially, finding financing wasn't easy for them.
But after some searching, the Hiltners found Stearns Bank and Vice President/Senior Lending Officer Tom Ethen.
"Stearns Bank believed in us when many other institutions did not," DeNae said. DeNae sat down to answer a few questions about what it's been like working with Stearns Bank for the past 18-plus years and how the Hiltners' franchise financing relationship with Tom has evolved into a friendship.
Q: Was there any particular time or moment when Stearns Bank really stepped up to help you, especially when you were searching for franchise financing options?
A: Stearns has always stepped up to help us whether it was financing equipment purchases or helping us with building additions and remodels.
Q: How does Stearns Bank compare to other financial institutions you have worked with?
A: We have a personal relationship with Tom and Stearns Bank. They were willing to take a chance on us when others were not. Other banks have tried to earn our business but we are very loyal to Stearns Bank and appreciate their high level of service.
Q: What's the best part about working with Tom Ethen and Stearns Bank?
A: They are local, professional and just a phone call away. They provide phenomenal customer service and provide fast decisions.
Q: Why did you decide to choose Great Harvest Bread Co. as your franchise?
A: How can you not love the Great Harvest mission statement of "Be loose and have fun! Bake phenomenal bread. Run fast to serve others and give generously?" It was a pretty easy decision for us.
Q: What's it been like maturing as a business over the past two decades?
A: We have learned that we have to be able to change and adapt to the times and to our customers' needs and wants. We are currently adding seating and are expanding our sandwich menu to include grilled paninis. We are grateful for a loyal customer base that supported us during a pretty long recession.
Lessons Learned
One business loan can set up a longstanding relationship with a financial institution
Find a lender that believes in your ambition and aspirations for your small business
When selecting a franchise, make sure it fits in well with your values and lifestyle