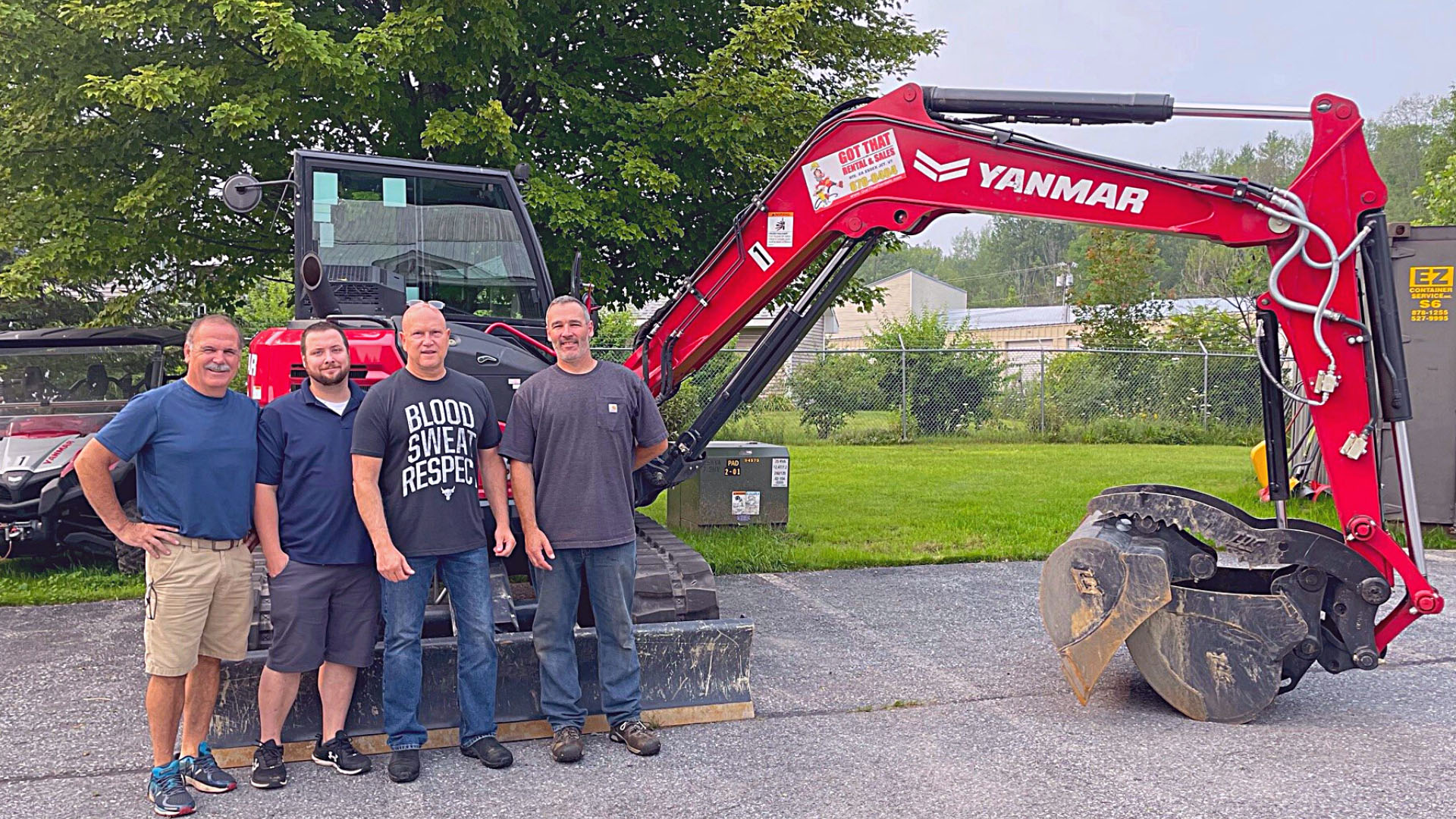 Got That Rental & Sales
Scott Guay
Essex Junction, Vermont
Pictured, left to right, are Got That Rental & Sales' Tim Leggett, Jake LaCross, Scott Guay and Jay Menard.
Business is booming for Scott Guay.
The owner of Got That Rental & Sales in Essex Junction, Vermont, runs a business that rents and sells equipment ranging from excavation, landscaping to scaffolding.
"The COVID-19 pandemic has increased our sales and rentals," Scott said. "The area around here is booming, and we can't keep up with demand. I don't see it slowing down soon."
Since business is going so well, Scott is purchasing more equipment to rent out. After a referral from Yanmar for a recent purchase, he started a relationship with Stearns Bank's Equipment Finance Division.
Scott has developed a solid relationship with Stearns Bank and account manager Sherri Sandelin. His old financial institution created roadblocks and delays, making it harder to get new equipment on his lot. The relationship with Stearns Bank and Sherri led to him financing four Yanmar excavators since 2019, thanks to Stearns Bank's fast and easy approval process.
"When you talk to someone from Stearns Bank, it's like talking to someone next door," Scott said. "The construction lending team is very knowledgeable, for one, and reliable for two. The conversations I have with them are genuine."
Scott also likes that he isn't pushed into doing something he's not comfortable with. Stearns Bank understands his business challenges and equipment needs.
"They call you when they need to and there is always no pressure. I don't want a lot of people calling me and I don't want to have to deal with five or six banks on different pieces of equipment," Scott said. "But I'm glad to take Stearns Bank's call anytime because of how well they treat their customers.
"You know you're just a number to some banks. You can tell in their tone, how rushed they are – they don't care. It's never that way with Stearns Bank."
Guay has owned Got That Rental & Sales since 2005. He has almost 40 years of experience working in the rental and sales of equipment. He admits that the relationship he's cultivated with Stearns Bank has surprised him after years of dealing with other institutions who didn't meet his expectations.
"When you've been in this business as long as I have, you stick with what works. If you're paying off your bills for 10-12 years, always pay on time, and the bank you work with still doesn't know who you are, that says a lot about them. Stearns Bank offers you that human element that other banks are missing.
"I'm busy right now and I have a great window of opportunity. I have nine people working for me. I don't have time to go through unnecessary hurdles I've already gone through in the past. I need this to be simple and Stearns Bank does that with equipment financing."