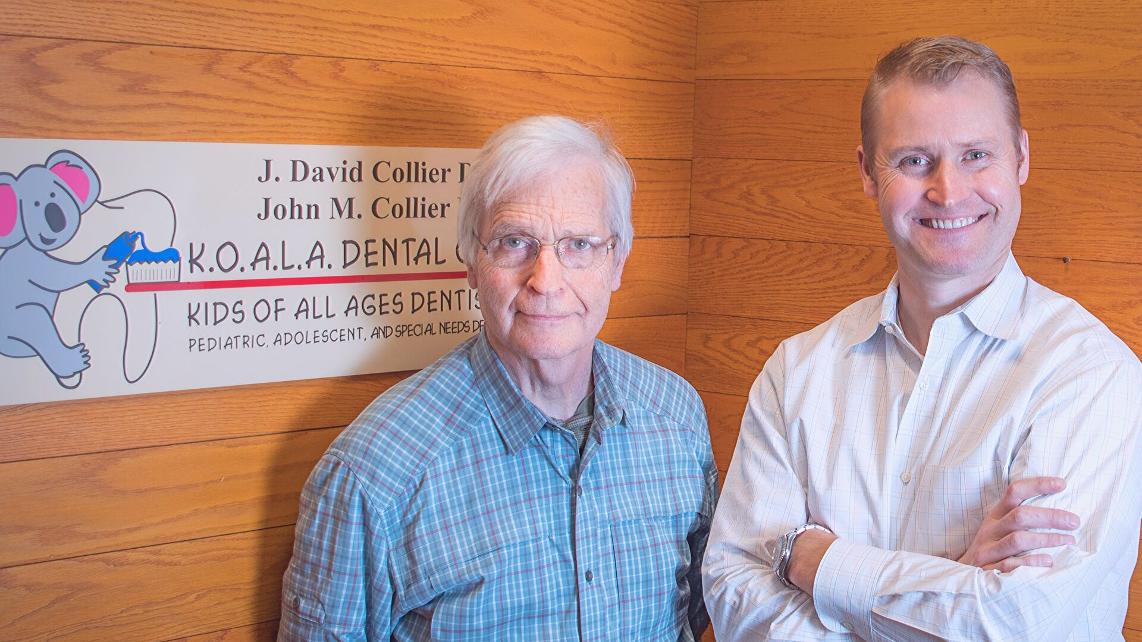 Central Minnesota Dentists Form Strong Bond With Stearns Bank
Dr. John Collier and Dr. David Collier
St. Cloud, MN
Dr. John Collier and his son, Dr. David Collier, have run K.O.A.L.A. Dental Care together since 2001.
David followed in his father's footsteps as a dentist and their business has expanded to three different locations in St. Cloud, Baxter and Buffalo, Minnesota.
When they've needed SBA loans to help with their expansion plans, they have turned to Stearns Bank for assistance. John's relationship with Stearns Bank goes back to 1980. It has since become a complete relationship where the Colliers have business accounts with Stearns Bank as well. They have worked with Stearns Bank's Isaac Flenner for the past 14 years and consider him a friend more than as a banker.
Read more about the Colliers in the Q&A below:
Q & A With Dr. John Collier
Q: How has your practice evolved over time?
A: Our locations have tripled. My first practice was in St. Cloud. Shortly after my son came in, we went to Buffalo where I was part time and later full time. After that, we built the location in Baxter. It's gone from one office to three offices. Technology wise, we've gone from four chairs to seven and are going to 10 when we move into our new building on Veterans Drive in St. Cloud.
Q: When and how did you decide to go into business with David?
A: I was looking for a partner. I wasn't taking any new patients from 1995 to 2001. The decision was to get a partner and David decided it would work for him to come on board with me.
Q: How has your partnership evolved with Stearns Bank over time?
A: The interesting thing is that Stearns Bank has always had a pulse on the local business community. The beauty is that they will advise you on what you should and shouldn't do. We've gotten into some potential business projects that weren't feasible for us. The beauty is that Stearns Bank always has been there for us. They have financed three buildings for us and they have financed another practice I own in Pine River and other buildings. It's been a great relationship.
Q: If somebody asked you about Stearns Bank, how would you respond?
A: The benefit of Stearns Bank is that it's a large bank that offers small town benefits. Whether you're in Albany, St. Cloud, or Upsala basically you can get that small-town benefit. The other nice part is having an SBA lender around for you. That certainly enhances the relationship for us.
Q: Do you like the personal connection that Stearns Bank provides?
A: Absolutely. That's the hallmark of Stearns Bank. I've been at a couple of other banks and my lenders have been there short term.
Q: How important are your patients to you?
A: Patients become friends. Any of them can call me any time and find out what's happening. It's the same with Stearns Bank. Isaac knows my schedule and doesn't hesitate to call me after 5 p.m. We can hash stuff out over the phone and it doesn't always need to be face-to-face.
Q & A With Dr. David Collier
Q: When did you decide to go into business with your dad?
A: It started in fourth grade. My dad started quite a while ago in this business. I've had experience in this (St. Cloud) office for years. It stemmed from there. As soon as I got to college, I knew what I wanted to do. I had a lot of exposure to it and enjoyed it. Working with family gave me a nice opportunity to move right in. It's been years in the making.
Q: How challenging is it to have three different locations?
A: There are challenges with three locations. However, to serve the community, it's necessary. We have three different breakdowns of people who we see. It's challenging to travel to these locations, but you're helping the community at the same time.
Q: What makes your family's relationship with Stearns Bank so special?
A: Our relationship with Stearns Bank is so special because they treat us the way we treat our patients. It's a very tight-knit community. We're dialed into our patient's needs and families and Stearns Bank is the same way.
Q: What projects have you done with Stearns Bank that have really been meaningful to you?
A: We've done a number of projects, so it's tough to narrow it down. Starting with some renovations to this office, then we did a large project in Baxter 10 years ago and Stearns Bank did the full financing for us there. That was extremely helpful. They gave us the go-ahead to do what we wanted to in terms of engineering and design. We also have two large projects coming up. We're expanding our office here in St. Cloud and opening a new clinic. Additionally, my dad and I are working on a project south of town by the new (St. Cloud) Tech High School and Stearns Bank is doing the financing. They've been there every step of the way.
Q: If somebody asked you about Stearns Bank, how would you respond?
A: Use them. Stearns Bank is a great place to go. You have the resources of a large bank, but you have that personal touch. That's important especially when you're talking about big money. It's nice to feel like someone is working with you and not just trying to get you.
Lessons Learned
When doing research for a lender, make sure you're comfortable with the people you're about to work with
Make sure your lender has an understanding of the business climate in your area
A lender that is easily accessible can make your life a lot easier