Stearns Bank ranked in the top third on American Banker's Best Banks to Work For listing
Posted on: Nov 08, 2021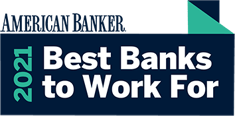 St. Cloud, Minn. (November 8, 2021) – American Banker has unveiled its 2021 Best Banks to Work For listing, which includes 90 banks across the United States. Among those selected, Central Minnesota-based Stearns Bank has landed at No. 26.
The annual list highlighted the many ways banks have responded to the changing landscape of finding and keeping excellent employees at a time when doing so has been intense.
Stearns Bank, which is employee owned, kept employee wellness – mind, body and spirit – at the forefront of planning as the pandemic set in and has held onto the many lessons learned through the experience.
As employees shifted their lives and worked tirelessly to meet the changing needs of customers across the nation, the organization went to great lengths to make self-prioritization, supported by an impressive benefits package, an intense focus. Such measures have helped to avoid burnout, encourage connection in remote workplace situations and maintained the strength and stability of the bank.
Stearns Bank is proud to make this important list and thanks the incredible employees who share their time and talent to make success possible.
About Stearns Bank
Minnesota-based Stearns Bank National Association is a $2.2 billion, independently-owned financial institution with locations in Minnesota, Florida and Arizona, and over 35,000 small business customers nationwide, in every state across the U.S. Recognized as having a bullet-proof balance sheet with 20% capital and earning top rankings as one of the nation's highest-performing banks by American Banker, and most recently ranked ninth in the U.S. among banks having more than $1 billion in assets by Independent Banker's May 2021 Best of the Best ranking of banks with the highest 3-year average return on assets, Stearns Bank specializes in nationwide commercial construction lending, USDA and SBA lending, and small business and equipment financing. Driven by a passion to help others achieve their greatest ambitions, Stearns Bank's mission is to Get the Job Done! For more information, visit StearnsBank.com.
Media Contact
Rory Bidinger
Roryb@stearnsbank.com