Remembering a Revered Community Figure
Posted on: May 06, 2022
Note: This article is being re-published by Stearns Bank with permission from Star Publications. It was originally published May 4, 2022, in the Star Post. Photo and story credit: Evan Michealson, Star Post.
Albany Golf Club hosts Skalicky's celebration of life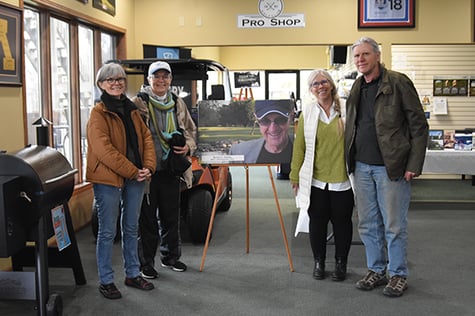 When Norm Skalicky and his family moved to Albany from North Dakota in 1964, they settled into their new home right alongside Albany Golf Club.
Due to its close proximity to their residence, the lush, green landscape of the golf course became home to the Skalickys. Whether it was golfing or simply traversing the course to spend time outdoors, a love of the club quickly nurtured amongst the former farming family.
"I used to go golfing on this course barefoot," said Jan Hanson, Norm's daughter. "Early morning, I would walk the course and I have bee stings in my feet to prove it."
So, after Norm passed away at the age of 87 last November, the half-century-old golf course seemed like a natural location for a celebration of the longtime Stearns Bank CEO's life, which took place April 30 and included a complimentary round of golf for visitors.
"We all thought it would be something he would enjoy, rather than speeches or a big formal event," said Kelly Skalicky, Norm's daughter. "He would much rather have people gather together and people's families can come and play some golf."
With Norm's birthday arriving April 1, his children – Hanson, Kelly Skalicky, Jeff Skalicky and Cheryl Ryan – wanted to usher in the spring by not only celebrating their father's life but also bringing the Albany community together.
"It's just really important. Build lifelong relationships in a community like this, and Norm really appreciated that," Hanson said. "He would come out and golf every week with his buddies."
The event ran from 8 a.m.-6 p.m., beginning with an open house at the course's clubhouse. While a downpour prevented people from immediately hitting the greens for golfing, the inclement weather did allow for valuable conversations and time for old friends, classmates and more to catch up. After all, Stearns Bank's growth with Norm at the forefront came in part because of the strong, caring work environment that was established.
Hanson came up with the idea of laying out a display of photographs capturing Norm's life, from his days in the U.S. Army all the way through his business endeavors in central Minnesota. Situated right by the entrance to the clubhouse, these displays offered visitors a chance to remember a man who, while not born in the town, was a personable Albany resident through and through.
And even despite the constant rain, many attendees made their way out to the Toptracer driving range and even onto the wet 18-hole course to get some swings in. While it was not the perfect weather for a day of golf, it was a day that came together successfully for both Norm's loved ones and the course he enjoyed.
"I thought it would be a nice tribute to Norm but also a really great support for the community," Kelly Skalicky said. "They (Albany Golf Club) were terrific. Aaron (Kleinschmidt, course manager) couldn't have been more whatever-you need. That's why I told them, we really wanted to make sure people actually come and play and enjoy the course at their leisure."
The celebration has come and gone, but Norm's impact remains alive as ever in Albany, and the Skalickys look to remain active to keep his people-driven mindset alive.
"We want to continue to support Albany, because it's where we were born and raised and where our business was born and raised," Kelly Skalicky said.
Photo by Evan Michealson- Norm Skalicky's children – Cheryl Ryan (from left), Kelly Skalicky, Jan Hanson and Jeff Skalicky – celebrate their father's life April 30 at Albany Golf Club in Albany. The golf course was basically home to the Skalickys, who lived right on the course.