Kelly Skalicky Named President of Stearns Bank, N.A.
Posted on: Feb 12, 2018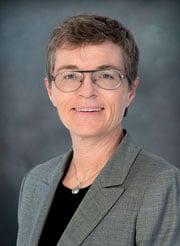 One of the key players in the ongoing success of Stearns Bank National Association, Kelly Skalicky, daughter of Stearns CEO Norm Skalicky, was recently promoted to president of the organization.
Kelly is uniquely qualified to ensure a strong future for Stearns. From spending Saturday mornings with her dad at the bank, to earning her law degree and providing legal counsel to Stearns for more than 20 years, to serving as general counsel for Stearns Bank for the last six years, Kelly has spent her life learning the intricacies of the banking industry. Her knowledge and experience have helped the bank achieve a long-standing reputation as one of the top performing banks in the nation.
In fact, in 2017, Stearns Bank was recognized as the #1 top performing bank in its peer group by both American Banker Magazine and Independent Community Bankers of America. Stearns was also named to Minnesota Business Magazine's list of 100 Best Companies to Work For in 2017.
"I am humbled and honored to accept this new role. It is a privilege and, frankly, an enormous amount of fun for me to work with my father on a daily basis, and I relish this new opportunity," said Kelly Skalicky. "As CEO and Chairman, Norm will continue to drive Stearns' trademark entrepreneurial determination to "Get the Job Done!" through his unparalleled ability to inspire innovation and top performance."
Stearns Bank was founded in 1912, and Norm Skalicky has led the bank since 1964. Together, Norm and Kelly have built a culture at Stearns that puts employees and their families first. Their philosophy is simple: treat employees well and they, in turn, will treat customers well. That approach has played a key role in driving the success of Stearns Bank, as well as the success of its more than 30,000 small business customers across the nation.
"Our employees are the backbone of Stearns Bank and inspire me every day with their relentless determination and personal commitment to do more and do extra for each customer," said Kelly Skalicky. "They are endlessly resourceful, hard-working, and innovative, constantly developing new ways to give our customers the very best, fastest and most accessible financing and banking experience possible."
"2018 promises to be an even bigger year for Stearns Bank, as we roll out new, customized small business solutions for our customers. I have full confidence in Kelly's ability to lead Stearns to new heights," said Norm Skalicky. "Not only is she smart and fiercely competitive, she possesses a strength of character that allows her to overcome the biggest challenges with grace. She makes me and everyone here at Stearns Bank proud to be part of this organization."
About Stearns Bank | We get the job done!®
Minnesota-based Stearns Bank National Association is a $2 billion, independently-owned financial institution with locations in Minnesota, Florida and Arizona, and over 33,000 small business customers nationwide, in every U.S. state. Recognized as the #1 performing bank in the nation by both American Banker and Independent Banker magazines, Stearns specializes in small business lending and equipment financing. Driven by its mission to deliver outstanding personal service, fast decisions and customized finance solutions, Stearns gets the job done! For more information, visit StearnsBank.com.