Hungry For Change
Posted on: Mar 24, 2023
Community Challenge harvests immense support
St. Cloud, Minn. (March 24, 2023) – Hunger in America – it's a real issue with real consequences.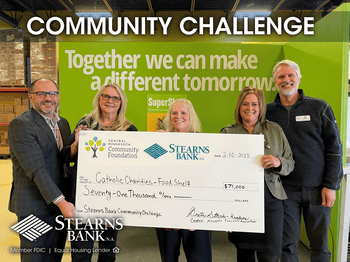 According to Feeding America, people who face food insecurity are disproportionately affected by diet-sensitive diseases, like diabetes and high blood pressure. For children, the effects of hunger are overwhelming as the lack of consistent nutrition affects a child's physical and mental development and increases the risk of chronic illness.
Second Harvest, one of the nation's largest hunger relief agencies, reveals food insecurity as far more common than many may think – in fact, an astonishing 53 million people across the United States used the emergency food system in 2021.
Hunger exists in every community and in every state. In Stearns Bank's home state of Minnesota, Second Harvest reports that:
1 in 6 neighbors experienced food insecurity in 2021 – equating to 483,000 people
1 in 11 kids don't have regular access to the nutrition they need to thrive
25% of Black households experienced food insecurity compared to 4% of White households in 2020
Senior citizens (ages 60 and up) are the fastest-growing group of food pantry visitors
While there is no single root cause of hunger, it is an issue that can be changed. Among the many ways to help, is by supporting the work of food shelves.
In December 2022, Stearns Bank partnered with the Central Minnesota Community Foundation to make an impact on hunger with the Stearns Bank Community Challenge.
Stearns Bank originally offered to match financial donations up to $100,000. Acknowledging the increased need, the nationally recognized bank later increased that match to $150,000.
Checks totaling $665,000 were presented in March 2023, during Minnesota FoodShare Month, to three food shelves: Catholic Charities of St. Cloud, St. Cloud Salvation Army, and the St. Joseph Food Shelf.
"We are incredibly grateful for the level of generosity shown during this challenge," said Rory Bidinger, Chief Marketing Officer with Stearns Bank. "Together, we can make a difference and work toward lasting solutions to fight hunger in Central Minnesota and beyond."
If you or someone you care about is facing hunger, help is available. Find food services near you at HungerSolutions.org.
About Stearns Bank N.A.
Minnesota-based Stearns Bank National Association is a $2.2 billion, independently-owned financial institution with locations in Minnesota, Florida and Arizona, and over 35,000 small business customers nationwide, in every state across the U.S. Recognized as having a bullet-proof balance sheet with 25% capital and earning top rankings as one of the nation's highest-performing banks by American Banker, and most recently ranked ninth in the U.S. among banks having more than $1 billion in assets by Independent Banker's May 2022 Best of the Best ranking of banks with the highest 3-year average Return on Assets, Stearns Bank specializes in nationwide commercial construction lending, USDA and SBA lending, and small business and equipment financing. Driven by a passion to help others achieve their greatest ambitions, Stearns Bank mission is to Get the Job Done! For more information, visit StearnsBank.com.