This blog draws from an urgent care industry white paper, The Essential Role of the Urgent Care Center in Population Health, published by the Urgent Care Association (November 2019)
Health care spending in the U.S. has escalated to 17.9 percent of gross domestic product (GDP) — a reportedly unsustainable cost that continues to climb. By 2027, spending will grow to 19.4 percent of GDP, according to the Centers for Medicare and Medicaid Services.
Urgent care medicine has experienced meteoric growth across our country with convenience, high quality, an ability to significantly lower the cost of care and enhance access and entry to health care for millions of people each and every year. This burgeoning industry continues to grow, offering services and access beyond those of a typical primary care office, including extended hours and weekend and holiday availability. Growth is fueled by consumers seeking affordable and accessible health care coupled with a well-documented shortage of primary care physicians (PCP).
The number of urgent care centers (UCCs) in the United States as of June 2019 is 9,279 centers.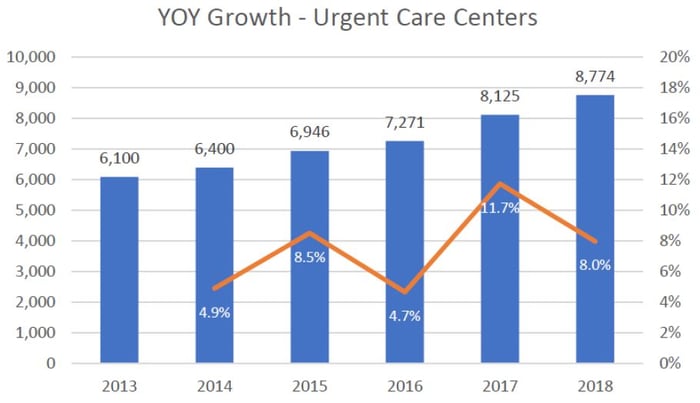 Patient volume
Urgent care volume can be seasonal, typically spiking during late fall and winter. Annual patient volume often correlates to the intensity of the flu season where urgent care centers play a significant role.
Urgent care represents just over 23 percent of all primary care visits and 12.6 percent of all outpatient physician visits. This represents the significant role urgent care centers are playing in the delivery of primary and ambulatory patient care.
Despite the proliferation of urgent care centers around the country, 21 percent of those surveyed say they would continue to seek care in the emergency department for non-emergencies -- demonstrating a substantial opportunity for patient education and cost-savings.
Payer mix
The dominant payer group remains the commercial payer market, largely a product of the age demographic seeking care.
2015 data revealed that 97 percent of urgent care centers accept Medicare. In contrast, fewer accepted straight or managed Medicaid. Urgent care operators cite inadequate reimbursement for Medicaid services provided, often far below their costs to deliver the same visit, onerous enrollment or authorization processes, and challenges being paid.
Cost effectiveness
A key benefit of urgent care centers is diversion of patients from the hospital emergency room. 40 percent of emergency department visits did not require that level of service but are often the only option for after-hours care. Emergency department visits were reduced by 30 percent in communities where there was access to walk-in, no-appointment medical care.
According to claims data from Blue Cross Blue Shield of Texas, the cost to treat common diagnoses in the hospital emergency room was up to ten times higher compared to urgent care centers.
Ownership
In the early 2000s, urgent care centers were largely owned by physician groups. However, by 2014, hospital ownership increased to 37 percent. Urgent care aligns with many healthcare systems' objectives of providing cost effective, accessible care, particularly when integrated with other ancillary, specialty and primary care strategies.
Many multi-site urgent care centers have taken on private equity partners to fuel ongoing growth. And the payer community has entered the market with ownership in the urgent care sector – for example, Optum's acquisition of MedExpress.
Medical Services
Among the most common conditions treated in urgent care centers are fevers, sprains and strains, upper respiratory infections, lacerations, contusions, and back pain. Most centers also stabilize and treat fractures and provide intravenous fluids while offering on-site X-ray, laboratory and phlebotomy services.
Urgent care centers provide laboratory testing, both on site and to outside laboratories. Examples of testing services include blood testing, pregnancy, urinalysis, rapid strep throat cultures, and rapid influenza testing. Diagnostic imaging also is available, including computerized radiography and digital imaging (x-ray diagnostics).
Occupational Health
Urgent care centers often provide pre-placement physicals, urinary drug screening and post-injury testing, annual employment physicals, flu immunizations, and workforce health education on injury/illness prevention. The opportunity for seven-day per week near-site, or in some cases on-site, access for treating immediate injuries and continuing the medical care until returning patients to full duty is a significant benefit for many employers.
Telehealth
Many employers have on-site telemedicine portals for immediate care of acute illnesses and injuries. This is a growing service in urgent care centers electing to utilize telemedicine to more rapidly evaluate patients by transmitting the care of patients to less busy centers in their system, thereby enhancing patient flow.
Patient Satisfaction
A key factor in popularity of urgent care centers is the focus on service and high satisfaction from consumers. Urgent care centers promote convenience in a health care industry system that often is complex for patients to navigate. Patients value convenience in location, operating hours and walk-in appointments.
As competition grows in the industry, urgent care center owners and operators continuously seek ways to enhance the patient experience.
Urgent Care in the Healthcare Delivery System
As the U.S. healthcare system moves away from the fragmentation of fee-for-service, urgent care centers are effectively partnering with medical organizations and systems focused on coordinated patient care. Integrated care models including Accountable Care Organizations, Patient Centered Medical Homes and bundled payment systems are utilizing the access and savings opportunities that urgent care centers provide.
Urgent care centers support primary care practices as an extension of the primary care clinical team. Over 75 percent of urgent care clinical providers are primary care trained and choose to treat urgent care patients with an understanding of the need for continuity of care.
Numerous large, integrated health care organizations use urgent care centers as access points for their primary care, specialty care and post-acute care activities. Geisinger, Mayo Clinic, Ochsner, Banner Health and Intermountain Health, to name a few, have added urgent care medicine to their successful continuum of care and as a key component of their future strategies.
Screening and Preventive Care
Urgent care centers could potentially provide a great service to population health if contractual and payment barriers were lifted to appropriate screening. The payer community often views and limits urgent care centers to care of episodic illness and injury. This prevents urgent care centers from participating in early identification of at-risk patients who could be referred to the care of a PCP or specialist.
Future of Urgent Care Growth
Healthcare delivery systems will continue to align around the consumer. The complex and fragmented systems of today will move towards opportunities for improved access to care and seamless coordination of care for patients and providers. Urgent care utilization should increase as we shift to value-based care and cost-effective healthcare models.
Healthcare reform has increased the number of insured patients in an already stretched primary care system. This increase in the number of patients seeking access to care in an overburdened or at-capacity Patient Centered Medical Home should inspire primary care providers to collaborate with urgent care centers for acute episodic care.
As value-based payment evolves, more urgent care organizations will locate in rural areas to bring access-to-care solutions in underserved areas. Urgent care services will diversify to include more occupational medicine and ancillary services such as weight loss, smoking cessation and immunizations. Also, more varieties of specialty urgent care centers will appear such as pediatric, orthopedic and behavioral health urgent care practices.