RDR Auto Sales/Northgate Motors of Sarasota
Sarasota, Florida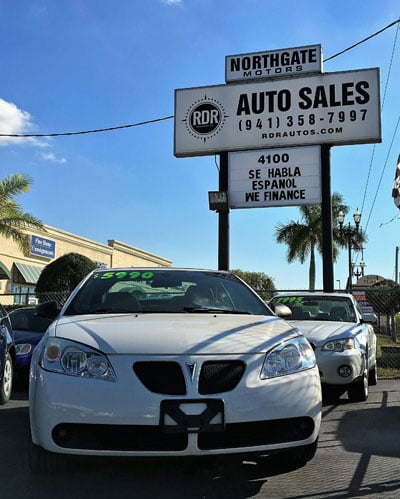 Richard Rodriguez started in the auto industry in 1985.
As the owner of Northgate Motors/RDR Auto Sales beginning in 1995, his aim was always to sell affordable cars to his customers.
"I started from the ground-up. We want to sell affordable, used cars to our customers. We've built up a good relationship with the community," Richard said.
When Stearns Bank opened a branch in Sarasota, Florida, in the late 2000s, Richard became a customer. He discovered that Stearns Bank treated its customers the same way he did – with respect and personal service.
"Things were made really simple when Stearns Bank took over. All of my assets and accounts transferred over easily. I had my commercial loan at the time and everything stayed the same," Richard said. "The years have gone by and I've built a great relationship with Stearns Bank."
In 2012, Richard received a call from Stearns Bank notifying him that the interest rate on his commercial loan was being lowered. He couldn't believe it. That type of customer service takes him by surprise.
"The years have gone by and I've built a great relationship with Stearns Bank."
A Stearns Bank audit of his loan, originated by another lender, found that the interest rate was set too high. With the interest rate adjusted lower, he paid off the loan five years earlier than expected.
"I got my rate when I was young and hungry and not really paying attention. In 2012, rates had dropped quite a bit. Without me asking or inquiring, they dropped my rate from 11 percent to 3 percent," Richard said. "I couldn't believe what I was seeing. I always thought banks didn't look out for their customers. It was great news for me and I paid off the property a lot earlier than I thought I would."
Richard has built a complete relationship with Stearns Bank, including two business checking accounts, personal checking and savings accounts, a CD and a Hurricane Relief Express Loan he took out after Northgate Motors suffered damage following Hurricane Irma in 2017.
Stearns Bank Sarasota branch manager Linda Fasanelli approached him about utilizing the Hurricane Relief Express Loan after Irma hit the area.
"I was a little surprised about the loan, but she assured me there was no interest and no strings attached," Richard said. "I looked into it and we moved forward. It was fairly simple. I had minor wind damage to my fencing, but when you factor in a couple hundred feet of fencing, it was anywhere between $5,000 to $7,000.
"We ripped the old fencing down, graded the property, removed some trees and replaced every post and pole."
Richard also knows he can count on Stearns Bank employees to help him when he can't make it into the Sarasota branch. He can make a phone call and get assistance because he's established such a strong bond with them.
"If I need to move something around, I know I can call them and get things done in a matter of minutes over the phone," Richard said. "It's kind of what my wife and I say all the time: We can go to an average restaurant with average food or an expensive restaurant with great good. But if we get great service at the average restaurant compared to the expensive restaurant, we'll always go to the average restaurant.
"It's the people that make all the difference to us."