Ice House America
Chisago City, Minnesota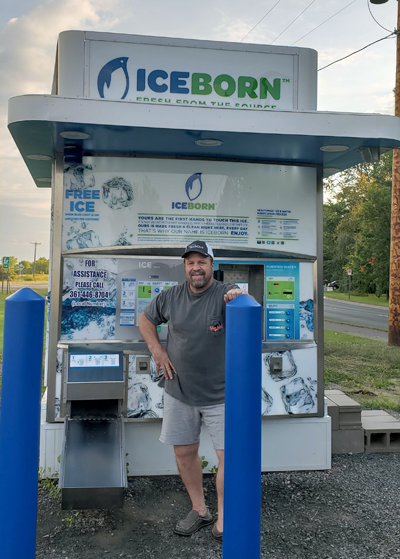 Brent Newton is an airplane mechanic by trade.
When he was driving on his way to a job in Texas, he discovered a drive-up ice machine that was made by IceBorn.
"It was half the price of going to the store," he said. "That's when I knew I might be interested in starting something else as a small business owner."
When Brent moved up to Minnesota to be closer to his children, he noticed that there weren't any drive-up ice machines in the state. He decided to purchase an IceBorn machine and put it up in Chisago City, Minnesota.
"This is fresh ice that has never been touched. It's formed and stored in the machine. The usual bag of ice is touched 10 times before the consumer gets it," Brent said. "I've owned other businesses from a coffee shop to one where I flipped houses. I didn't know if (IceBorn) would work up here, but then I found out someone had one in Williston, North Dakota."
Brent did his research and spoke with the owner of several IceBorn machines in Williston. After speaking with him, he figured it would be a no-brainer to pursue financing an Ice House America machine.
"I did my homework and talked to the owner in Williston a lot," Brent said. "He taught me how to winterize it and what to expect down the road."
"I just drove into Stearns Bank one day. I wanted to go to a hometown bank. I sat down with my lender and he liked the idea."
When Brent was pursuing a bank for financing, he came upon Stearns Bank and SBA lender Al Schultz. From the beginning, Brent knew he was working with someone who understood what he was trying to accomplish.
"I just drove into Stearns Bank one day. I wanted to go to a hometown bank. I sat down with Al and he liked the idea," Brent said. "He was very professional and treated me well. Al is always positive and I really appreciate that. He's a farm boy at heart and treats everyone with respect."
Brent got his IceBorn machine up and running just after July 4, 2018. The machine is 8x16 feet long and 11 feet high. It's a kiosk where customers can drive up, put money in and select the amount of ice (in pounds) they want. Customers can also purchase water up to five gallons at a time. IceBorn uses reverse osmosis to make the ice.
"I would like to have 10 of these eventually. It's been a lot of work getting it going, but it's worth it," he said. "I would love to have them all over. I can basically put a machine wherever there is electricity."