Closets By Design
Pensacola, Florida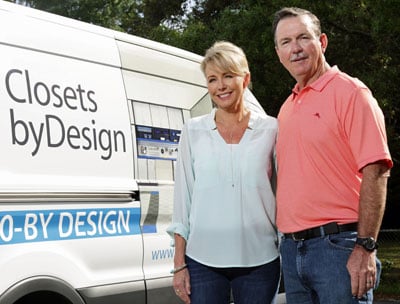 Owning a Closets By Design franchise has become a family affair for Samantha Floyd and her husband, Jimmy.
After her family started a successful franchise in West Palm Beach, Florida, the Floyds were anxious to start their own.
Closets By Design specializes in custom closets and home offices. It can design an attractive storage space for rooms in homes that need organizing. They put up these storage spaces in pantries, garages – and everything in between.
"My family has owned their franchise for almost six years. Jimmy and I moved inland to raise our daughter. Now she's off to college and we moved back to the coast. We wanted to jump on this opportunity with such a great franchise," Samantha said.
The Floyds needed an SBA loan to start their own Closets By Design in Pensacola, Florida. The Floyds had previously been business owners for 30 years with Jimmy running a pool construction company. They designed and built in-ground custom pools. Samantha did the company's bookkeeping while also having a full-time job of her own.
"We were never disappointed in Stearns Bank. They walked us through so many different things I had never even thought about."
The Floyds were originally connected to Stearns Bank by Tenet Financial Group. They began to work with SBA lender Mindy Campbell on their SBA loan. They were unfamiliar with the process. But with the help of Mindy and Stearns Bank lending assistant Brandi Korynta, everything went smoothly leading to approval.
"They were both always at our disposal," Samantha said. "Mindy and Brandi were always great at following up with us, especially as deadlines approached. They talked me through our questions. The loan terminology can be tough to understand."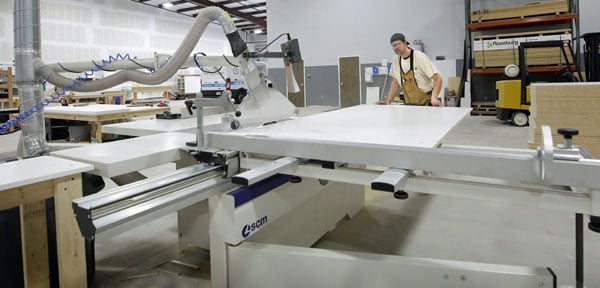 The Floyds used the Stearns Bank Customized Portal to keep track of their documents during the approval process. It allowed them to see what documents needed to be uploaded at every step.
"Mindy and Brandi really explained things well, and the portal was easy to use," Samantha said. "You never lose track of where you're at. And, you get the opportunity to read through what you're doing. You can scan it and upload your docs easily. It's a really good portal."
The Floyds opened Closets By Design of the Emerald Coast in Pensacola in January 2019. The business has eight employees and the Floyds have been working 12-hour days, seven days a week. However, they wouldn't trade it for anything.
"We are booked for installations a ways out. We're installing a new closet every single day. Jimmy was in the field for the first month, but now he's back in the office with me," Samantha said. "I'm 52 and Jimmy is 55. We're looking at 10 years down the road and we can foresee ourselves still doing this. We're right where we want to be.
"We're always up for a challenge."
The Floyds wouldn't hesitate referring Stearns Bank to other small business owners they know.
"We were never disappointed in Stearns Bank. They walked us through so many different things I had never even thought about. They were always there. It was a strenuous process, but Mindy and Brandi were always calm and made us feel comfortable. We've struck up a nice little friendship because of this. I know Jimmy and I would refer anyone we know to Stearns Bank."