Audra Hickman
Winthrop, New York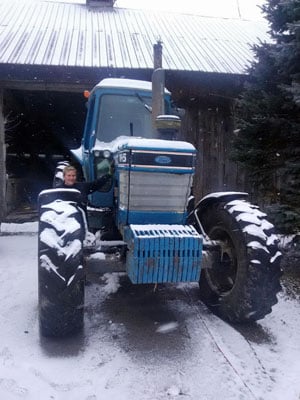 When you work with someone as much as Audra Hickman has with Terilynn Palmer, it almost starts to feel like they're a family member.
Audra, a farmer in Winthrop, New York, has done 21 financing deals on farm equipment with Stearns Bank. Nineteen of those deals have been worked out with Stearns Bank account manager Terilynn Palmer.
"Stearns Bank and Terilynn are so easy to work with," Audra said. "They make these deals work and it's not complicated. Working with Stearns Bank has just been perfect for me."
Audra has financed everything from a no-till seed drill to large tractors with Stearns Bank. The seed drill was her most recent purchase.
"It makes things so you don't have to work from the ground up. You can see everything from the ground down and it's quicker and easier for us," Audra said. "We use it for other farmers as well and that gives us additional income."
Audra and her boyfriend primarily sell corn and hay for silage. Her family used to be in dairy farming, but now focus on crop farming and field work. She has been farming since 1991. The custom farm work she and her boyfriend do wouldn't be possible without the equipment they financed with Stearns Bank.
"When we need equipment really fast, we know to turn to Stearns Bank."
"When we need equipment really fast, we know to turn to Stearns Bank," Audra said. "Terilynn and everyone is so good to work with. There's really no comparison to working with other banks. Terilynn writes down my info and she does everything from there. It's so much simpler working with Stearns Bank."