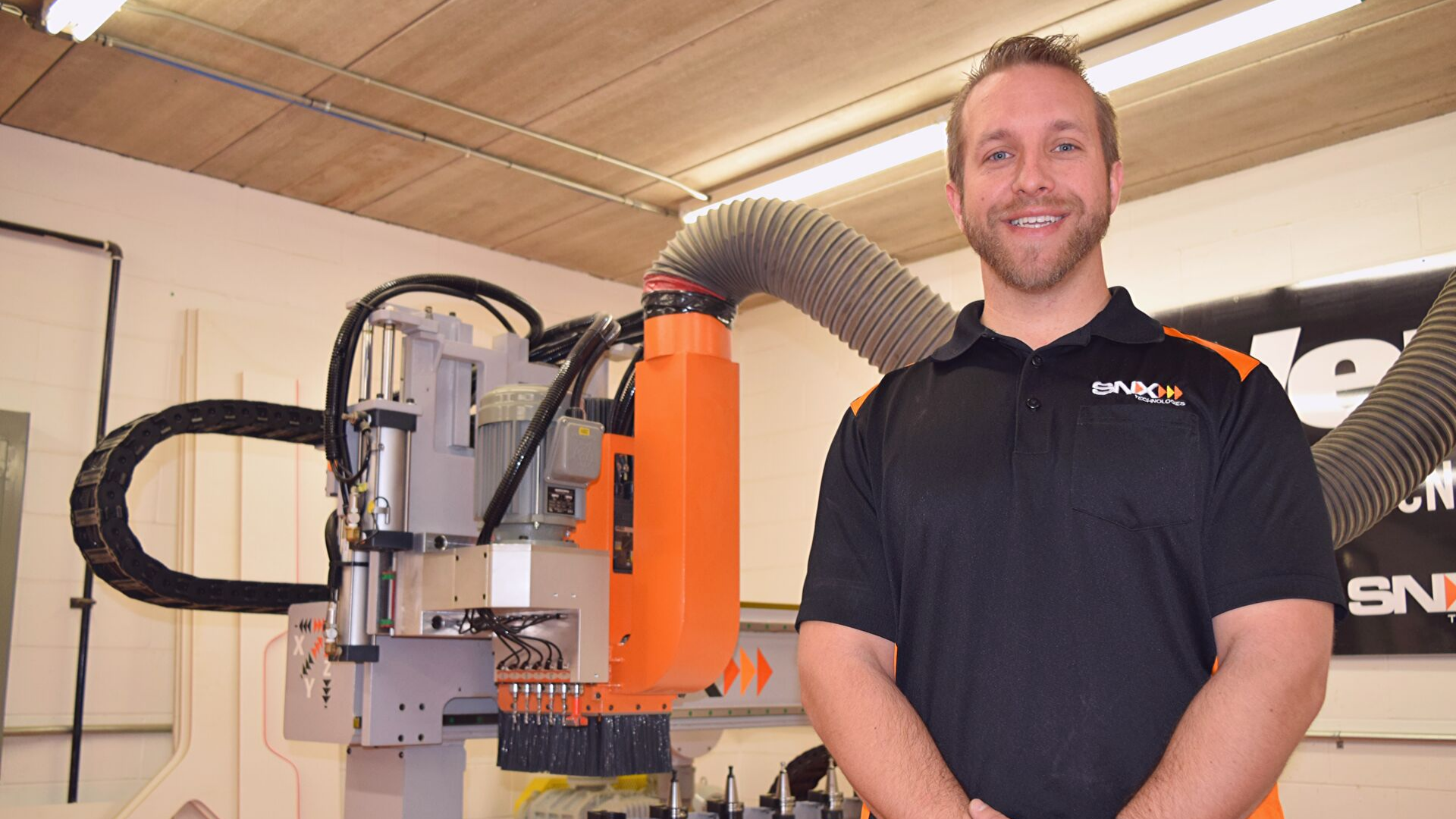 Woodworking Vendor Finds Right Financing Relationship With Stearns Bank
Jeremy Manea
Sauk Rapids, MN
Jeremy Manea of Sauk Rapids (Minnesota) based SNX Technologies is a national sales manager for the company's computer-controlled industrial woodworking machinery.
He's been on the job with SNX for more than four years. Jeremy helps wood shops of all sizes and types to implement this type of large, precision-made capital equipment.
SNX provides a wide range of other innovative woodworking machinery and supplies for the industrial woodworking industry. Many of their equipment offerings are either US- or Minnesota-made.
"We're a fast-growing technical company that takes a lot of pride in what we do," Jeremy said. "We all work hard to make SNX a leading brand in our industry – in sales and in service."
Over a year ago, SNX was struggling to arrange the right financing for their customers' machinery purchases.
"Our previous financial institution wasn't able to give our customers realistic terms," Jeremy admitted.
The weakness in the relationship with SNX's previous financial institution included a lack of quality and knowledgeable customer service.
"Nobody on their end was personable or understood my customer's challenges. It really made it hard to get along with them. It finally came down to not trusting that they knew what to do," Jeremy said.
"We had to find somebody else because this financial institution wasn't aligned with our brand image, they were unwilling or unable to come up with innovative solutions and they just weren't in our class of business."
SNX and Jeremy knew that they had to pursue a new financial relationship to get the financing that they needed for their customers.
In 2017, Jeremy and SNX met Stearns Bank representatives on the show floor of a national woodworking show. The two sides got to talking in the SNX booth and realized immediately that a relationship between the two might be beneficial.
"Stearns Bank is a national bank, but they're local to us; literally right down the road," Jeremy stated. "It was awesome to sit down with Stearns Bank to talk about what they could do for our customers. So positive. We do financing from the East Coast to the West, but we try and be as local as possible. It saves us time and improves communication."
SNX parted ways with their previous financial provider and began working with Stearns. Even in the very beginning, Jeremy saw results.
"With new equipment financing options and an experienced, committed staff to consult, woodworking customers are instantly more interested in what Stearns Bank can offer. They also like that Stearns is super easy to get a hold of and prompt in responding to them," Jeremy added.
Jeremy and SNX haven't regretted the decision to work with Stearns Bank.
"Our decision to move everything over to Stearns was the right financial decision for SNX and it's clearly been a direct benefit for our customers," Jeremy said.
Lessons Learned
Vendors need to work with a lender that matches their personality
Vendors need to find a lender that will communicate well with their customers
Finding a bank that offers local and national support for vendors can lead to a beneficial relationship