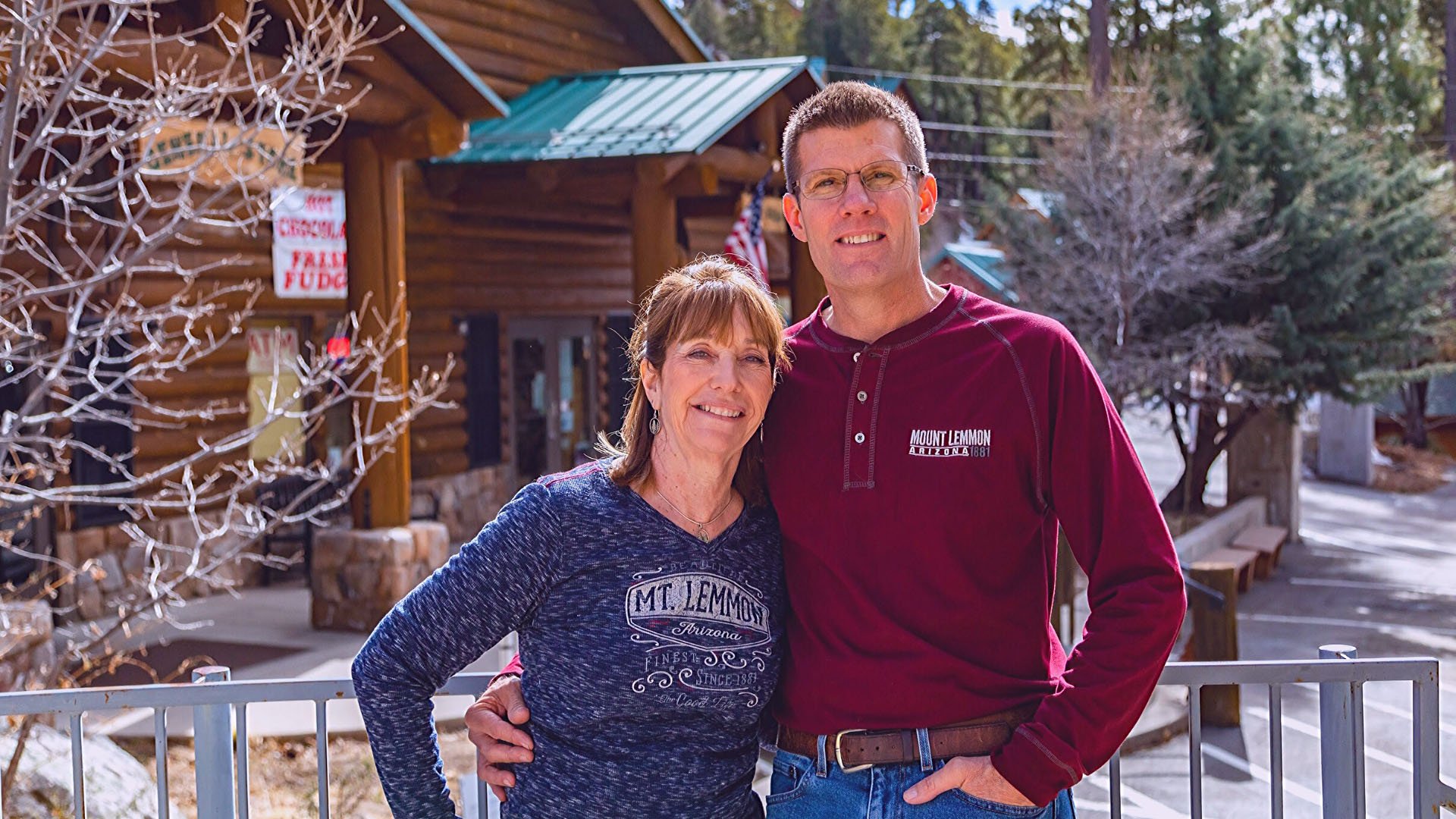 Mount Lemmon General Store and Gift Shop
Grey and Teri Carpenter
Mount Lemmon, AZ
loans
sba
business acquisition
Mount Lemmon General Store and Gift Shop has been around for two decades.
It has a strong reputation and business model in place. When it became available to purchase, Grey Carpenter and his wife, Teri, jumped at the chance to acquire it.
Grey had previously been an electrical contractor for 17 years, owning Greyco Electric, Inc., and employing 20 people. Teri was the co-owner of the business and was responsible for all office activities.
"The previous owners were really successful in our area. It's on Mount Lemmon, which is just adjacent to Tucson (Arizona)," Grey said. "It's a destination spot for a lot of people. There are a lot of things to do like hiking and biking. We're also on the Arizona Trail that goes through the entire state."
To acquire the store, the Carpenters needed an SBA loan. After being referred from their broker to Stearns Bank, things really started to take shape.
The Carpenters started working with Stearns Bank on the acquisition.
"We liked what we saw from Stearns Bank right away. Stearns Bank was very good at assisting us to understand the difficulties that can happen with an SBA loan," Grey said. "I credit them for guiding us and making sure we were seeing things the right way. They were straight forward and blunt."
The Carpenters set a closing date of August 24, 2018. Stearns Bank was able to meet the deadline easily, especially thanks to its Customer Portal, which helped the Carpenters easily upload their documents during the approval process.
"The portal made things faster and we didn't have to shuffle a lot of paperwork in a fax machine," Grey said. "Everything was secure, which gave us peace of mind. Everything was easy to upload in the portal and it allowed us to get things done quickly."
Grey wouldn't hesitate to come back and work with Stearns Bank again. The personal customer service that was offered to him and Teri is something he won't forget.
"It was important for us to have a bank that was well-organized and had their ducks in a row to get the deal closed on time," Grey said.
The Carpenters have big dreams for the store, but admit they're not going to change the model too much. After all, it has been successful for a reason. They have a staff of five employees and have already seen positives from acquiring the store.
"My dream is that this store continues to thrive. We want to get toward retirement and this is a great asset for that. As long as things go the way they have been, it will do that for us," Grey said. "The store is very profitable and has provided us opportunities we didn't have before. It's the perfect fit for us."
Lessons Learned
If you're interested in acquiring a business, make sure it has a reputable reputation and strong business model in place
As a business owner, be passionate about what you're doing every day and follow those passions
Choose a lender that understands your dream and responds to the needs of your small business