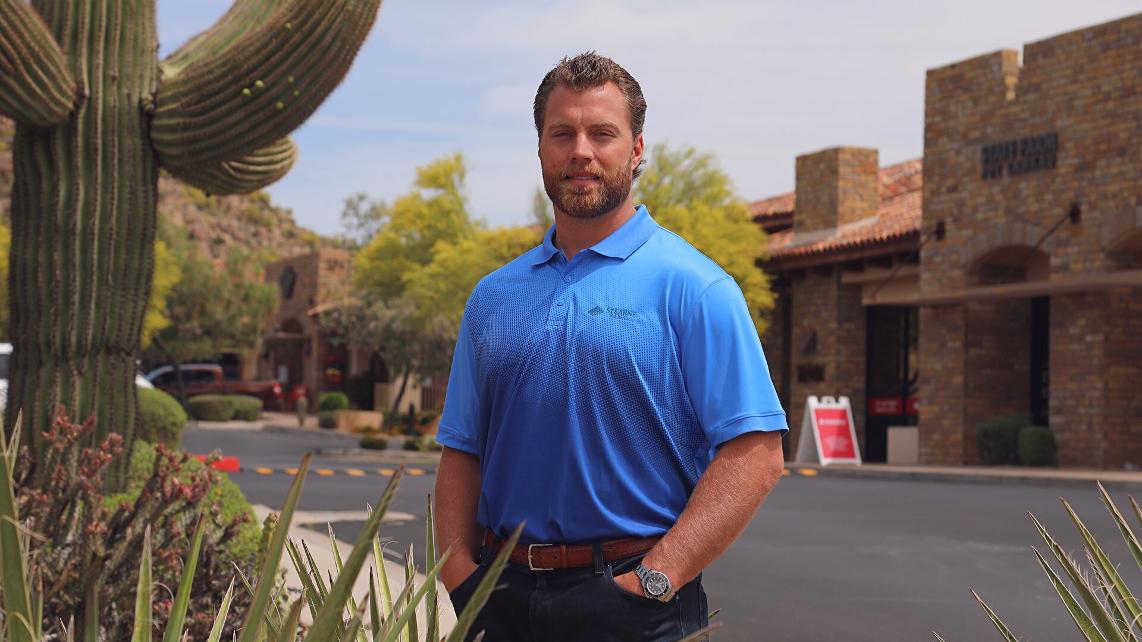 Kruger Companies
Paul Kruger
Scottsdale, AZ
commercial finance
business banking
Paul Kruger accomplished it all as a player in the National Football League. He was part of the Baltimore Ravens Super Bowl XLVII winning team and played for eight seasons in a league that takes discipline and focus.
The linebacker/defensive lineman finished with 35 sacks in his career with the Ravens, Cleveland Browns and New Orleans Saints. After he retired to Arizona with his wife, Paul's next venture came into focus with the help of Stearns Bank Arizona Market Manager Tom Hosier.
"Tom introduced me to the Stearns Bank family after my wife and I moved to the area. We've been doing business together since 2017 and we're already working on our third deal together."
Paul has invested in building medical office buildings in Scottsdale, Arizona. The three buildings he's worked on with Tom total about 30,000 square feet. Paul always had a strong interest in commercial real estate and he moved to Arizona to follow that passion.
"When we moved to Scottsdale there was a good opportunity to assume more responsibility with these investments. There was some risk, but I really wanted to dive into it," Paul said. "I think Tom made the process even easier because of his knowledge and experience in the commercial real estate world. When you're working with Tom, the process is always fluid."
After his initial meeting with Stearns Bank, Paul met founder Norm Skalicky. Paul was impressed with the family-like feel of Stearns Bank.
"Norm, Tom and everyone made me feel like a customer that is valued and respected," Paul said. "They did everything in their power to meet my needs. They also worked with my accountant and CPAs in every facet of the building process.
"Stearns Bank is a place that makes you feel comfortable and a company you can really develop a long-standing relationship with. It doesn't have a corporate feel to it, it's a family-like atmosphere."
Paul has big goals for all three office buildings that he's invested in. He is helping small businesses improve their office environment and customer access.
And he is investing in the community.
"I'm proud to stand behind these buildings and supply businesses with a great location – somewhere they can be proud of. It's more than just money for me. At the end of the day, I'm providing for my family and local businesses. I take pride in that," Paul said. "This is a vision that is really coming together. It's not just about buying something. It's about seeing the end result.
"We're providing quality to small business owners and their customers. That's something that means a lot to me."
Paul wouldn't hesitate to recommend Stearns Bank to anyone looking at investing in commercial real estate.
"Absolutely. I recommend working with Tom and Norm. They're both men of great accomplishments. They're personable and real. I feel a really strong connection to them," Paul said.