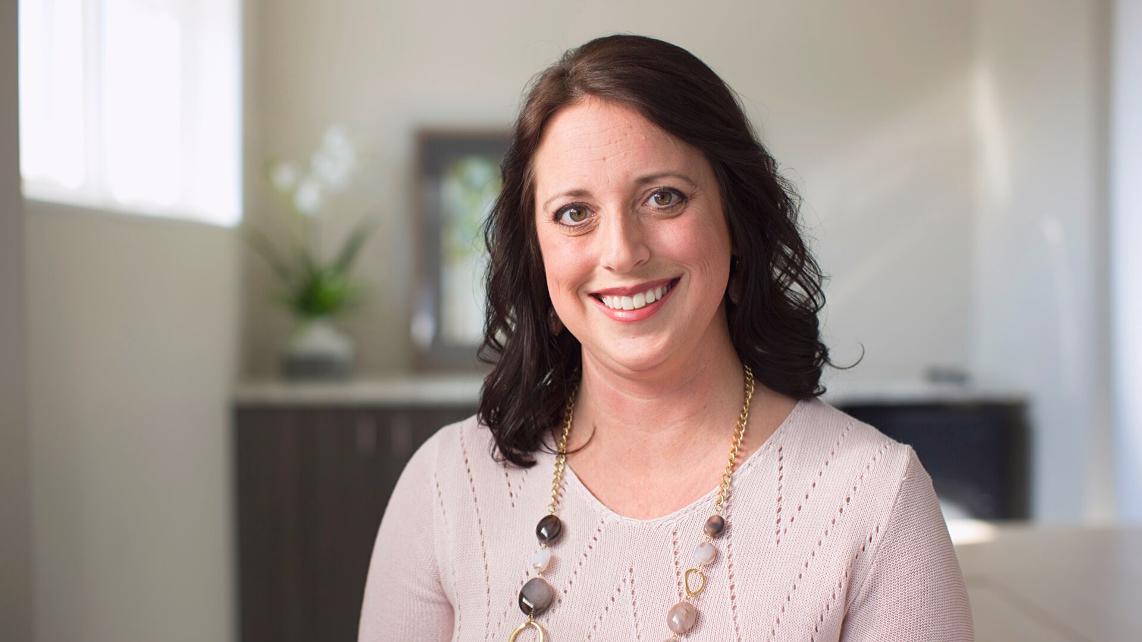 Stearns Bank Customer Takes 'Leap Of Faith' Into Woodworking Industry
Nicole Kenefic
Fort Wayne, IN
equipment finance
entrepreneurs startups
Nicole Kenefic always knew she wanted to be self-employed.
But the business she owns — and the industry she's in — typically doesn't have many females in it. Kenefic is the owner of KDA Furniture & Interiors in Fort Wayne, Indiana.
KDA designs furniture for commercial business offices. KDA handcrafts furniture with the best quality materials available and takes pride in creating a look that best suits the business's style.
Being a female in the woodworking industry is not only rare, but it's something Nicole takes a lot of pride in. She grew up with a dad who was a general contractor, so she was very familiar with the construction and woodworking world from a young age.
"I grew up with woodworking and construction in my blood," Nicole said. "But I get a reaction about me working in this industry every single day. I don't worry about it too much, but it's always there. I love the relationships I have with my customers and I take pride in my accomplishments. That's the most important thing.
"If a man can do it, why can't a female? That's how I've always felt about it."
Nicole estimates that when she attends an industry trade show, 98 percent of the audience is male. That was intimidating to her at first, but she's gotten used to it. After majoring in interior design at Purdue University, Nicole landed a job with the previous owners of KDA Furniture in 2003.
"I had a gentleman customer call in the other day and he said he didn't expect to hear a woman on the other end of the phone," Nicole said. "I just laughed, took the order and got it done for him. "When I'm at a trade show, most of the people will talk with my husband before me. But he's wonderful and says that I'm the one making the decisions."
She worked for KDA's previous owners for 10 years before purchasing the business five years ago with her husband.
"I took a leap of faith when I went to work for them in 2003," Nicole said. "I left a comfortable job, but it really fulfilled my creative side with interior design."
Of the furniture KDA manufactures, only a small number of pieces stay in Indiana. The company ships furniture to commercial businesses all over the country. They employ their own drivers and trucks to deliver the furniture efficiently.
KDA is a full-service business from design to delivery. Many of their jobs come through architects who are designing a building and need furniture to fit their exact specifications. She works with them on drawings and then she takes it back to her team to build, deliver and install the furniture.
KDA also specializes in manufacturing displays for optical practices and classroom furniture for Montessori schools. Not only do they work with wood, but they also use metal accents and plastic laminate on certain pieces, especially for their medical customers.
"We are definitely a team here. We're all dependent upon one another to make the company successful," Nicole said.
Nicole has worked with other financial institutions over the years. She was introduced to Stearns Bank in November 2016. Nicole was looking for a new CNC router table to streamline operations, when Dan Bowman of Machine Solutions introduced her to Stearns Bank.
"Stearns Bank wasn't twisting my arm to do something. I said how much I needed and they said they could finance it for us. I would definitely work with them again because it was so easy," Nicole said. "I want to feel comfortable with the person I'm talking to. I don't want to get a selling line. I didn't get that from Stearns Bank."
Nicole appreciated that her financing was approved and in place within 48 hours.
"It was so easy. I wasn't asked any ridiculous questions or made to jump through hoops," Nicole said. "Having the paperwork go so quickly with very clear communication from Michelle is what I really valued. She returned my calls and we never had any issues. I wouldn't hesitate on referring Stearns Bank to anyone in the woodworking industry."
KDA moved to a larger facility with larger floorspace in 2017. The CNC router already has made a difference in the business's productivity. Nicole programs her drawings into a computer and the router cuts the wood accordingly. It makes for clean and easy cuts and reduces human error.
"It's allowed us to be more efficient and it made sense for what we do," Nicole said. "We're much more self-sufficient and efficient in this new location.
Lessons Learned
Networking can be important to finding the right financial institution
Having industry experience can lead to larger opportunities such as business ownership
Clear communication during equipment financing can speed up the approval process