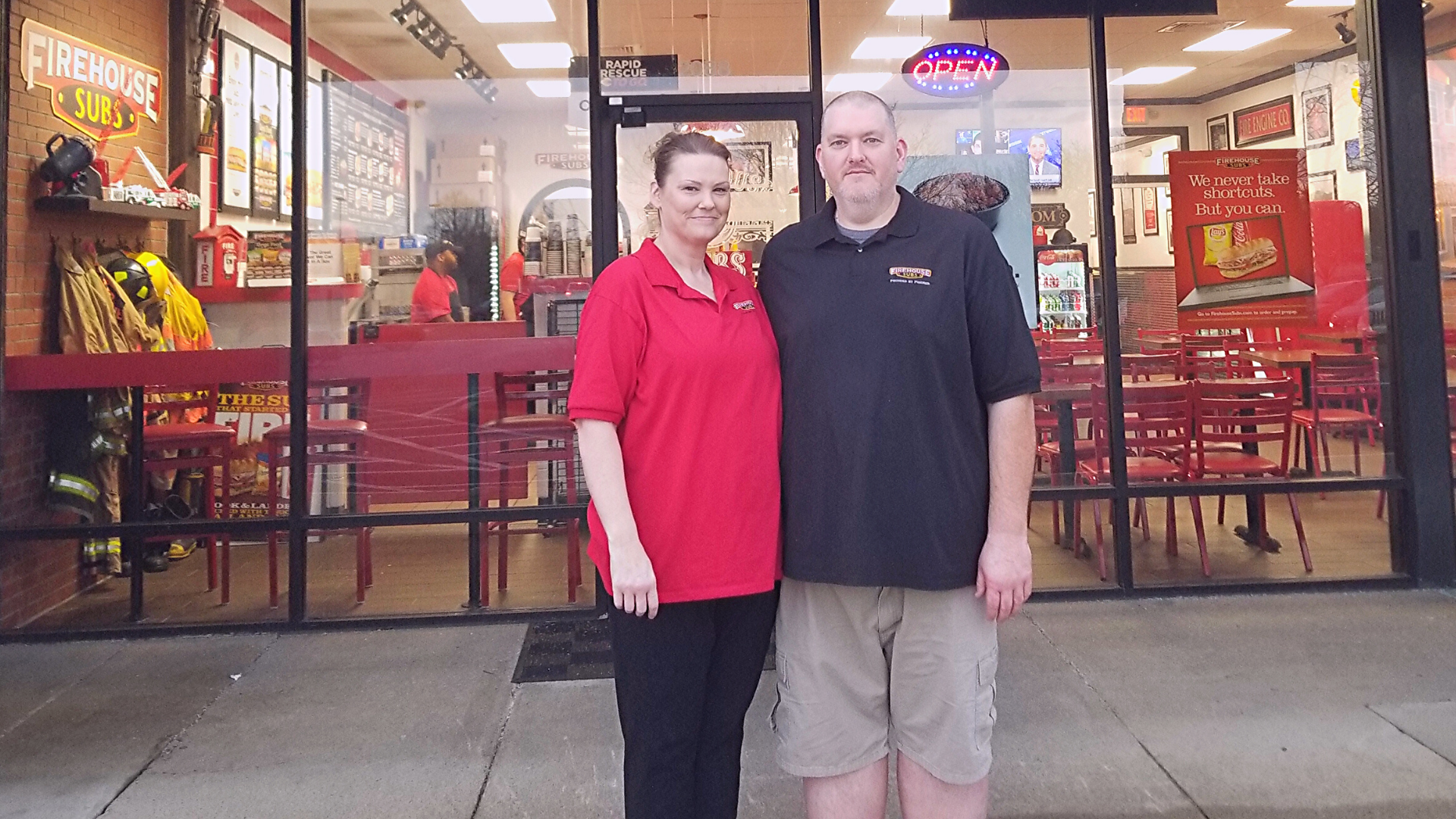 Firehouse Subs
Herbie & Carrie Lake
Winchester, Virginia
loans
sba
entrepreneurs startups
Herbie and Carrie Lake wanted to find a way to give back to their community when they decided to open a franchise in Winchester, Virginia.
Herbie was a volunteer firefighter in Front Royal, Virginia, for 10 years and wanted to find a franchise that fit best with his values.
"I always wanted to be a firefighter and help people. Even to this day, I would jump out to help someone in need because of being a fireman," Herbie said. "It's really a brotherhood. We never got paid and we did it to help people. It was always an adrenaline rush and it's something I would do again if I had the chance."
When the Lakes discovered Firehouse Subs, the decision was easy thanks to the firefighting connection.
"We wanted to start a business for ourselves and I always went to sub shops for lunch. I approached Carrie about doing this and I brought her to Firehouse Subs to try the food," Herbie said. "Carrie was skeptical at first about the idea. But then she ate the food and really liked it."
The Firehouse Subs Model
Carrie was on board after eating, but it also helped that Firehouse Subs supports their franchisees so well.
"The business plan is done for you and you don't have to figure out as much, like how much to charge for the food," Carrie said. "The brand was established and they take care of things like marketing and public relations as well. Having that support meant a lot."
Firehouse Subs was founded in 1994 in Jacksonville, Florida, by former firefighter brothers Robin and Chris Sorensen. The restaurants offer a variety of cold and hot sandwiches and salads. Through the Firehouse Subs Public Safety Foundation, the company uses some of its profits to purchase equipment for first responders around the country.
"A big part of going with Firehouse Subs was its Public Safety Foundation," Herbie said. "We were involved in so much in the community with youth sports and our kids. Giving back to the community was a big deal for us. "Knowing that Firehouse Subs gives back was the icing on the cake."
An SBA Loan With Stearns Bank
When the Lakes needed an SBA loan to complete their dream, they were referred to Stearns Bank and SBA lender Joshua Borgerding from Diana Rosenkrantz of Tenet Financial Group.
Joshua first met the Lakes in October 2017 and they knew fairly quickly that they were in good hands.
"This was our first time getting a small business loan and right away you could tell Joshua and Stearns were knowledgeable and professional," Herbie said. "I felt drawn to Stearns Bank right away. I just always felt comfortable talking with Joshua and the rest of the team. I felt like they knew what they were doing and were trying to help us the whole time."
The Lakes used the SBA customer loan portal to upload the documents that Joshua and Stearns Bank required during the approval process. The portal made for a streamlined process, allowing the Lakes to see what they needed to upload at each step of the way.
"We loved the portal," Herbie said. "If we submitted the wrong document, or if something needed to be changed, someone at Stearns would respond right away. There was always encouragement on their end. They would come back and say that we were doing a great job with everything. That meant a lot to us."
The Lakes' Firehouse Subs location opened for business in August 2018. If all goes well, they may expand to four other locations. "We're really putting everything into this," Herbie said. "Having Joshua around was a big burden off our shoulders. If we had a question, he was always there in a timely manner with an answer. He made the process a lot less stressful."
Added Carrie: "It takes time and a lot of work, but I think in the end all the time, money and effort will be worth it. We can't thank Joshua enough. He always gave us suggestions on how to do things. I know it's his job, but sometimes the small things to him were a big deal to us and he helped us solve a lot of problems along the way."
Lessons Learned
Find a franchise that helps you achieve your small business dream
Consider a franchise that helps you give back to your community
Make sure your lender has technology to make the loan process simple and transparent
Find an SBA lender you can relate to and trust