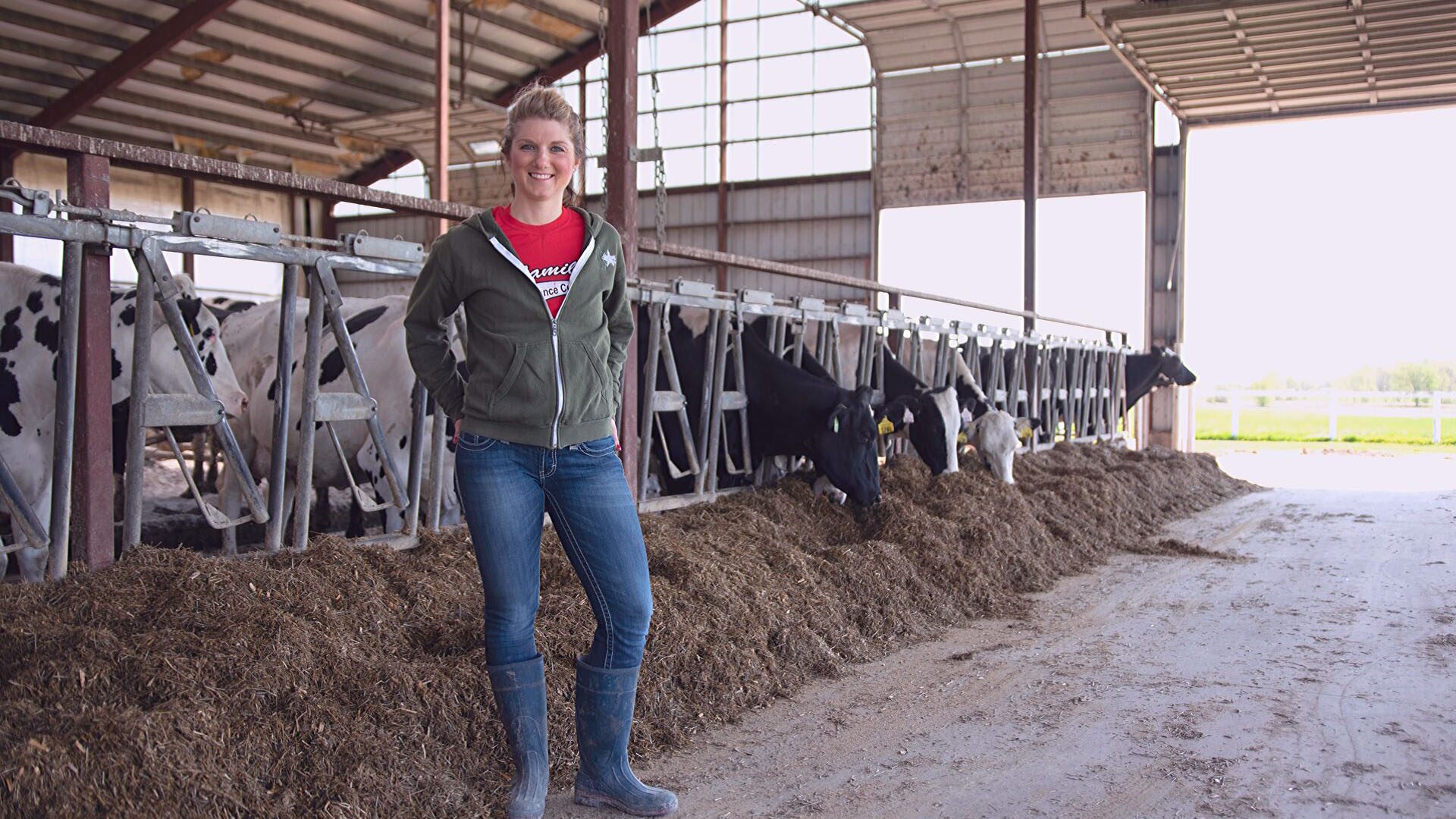 Dairy Farmer Creating Her Own Path On Family Farm
Brittney Muenster
Seymour, WI
Tradition means a lot to the Muenster family in Seymour, Wisconsin.
In the heart of dairy farm country, the Muensters own and operate Muenster's Olde Homestead Farms and Registered Holsteins.
"My siblings and I are the fifth generation on the farm," Brittney Muenster said. "That's 150 years of my family operating our farm. My siblings and I farm with my dad and grandpa right now."
Brittney, 26, is co-owner of the farm with her siblings and owns a large percentage of the herd. But the University of Wisconsin graduate also has a full-time job as an independent insurance agent.
To say she's busy is an understatement. She's been pulling double duty on the farm and her day job since 2015, working 8-5 during the day and two to three hours on the farm when she gets home. Brittney puts in full days on the farm on the weekends.
"With my dad working full-time on the farm, it made sense for all of us to work part-time and have a full-time job at the same time," Brittney said. "I've been all in on the idea for three years now."
Brittney began looking for her own dairy equipment when she took on ownership responsibilities. In late 2016, she found a Patz mixer that would be a big benefit to the herd.
The mixer makes it easier to prepare feed for the cows. It has become a crucial piece of equipment on the farm. After getting a financing referral in September 2016, Brittney started working with Stearns Bank.
"Sometimes when you work with financial institutions, it can take a while to get an answer, but not with Stearns Bank," Brittney said.
With Brittney's background as an insurance agent, she understands financing and managing risk. After working with other financial institutions in the past, she came away pleased with her experience with Stearns Bank.
"This experience was refreshing for me and my family," Brittney said. "The overall perception of banks in the dairy industry isn't always that great, but I have already referred a friend to Stearns Bank."
That experience has already translated into Brittney financing a new skid loader with Stearns Bank.
"We are hoping to use that very soon. We want to free up some people and get more work done during the day," she said. "We can use that to help feed the cattle and use it to clean at night. It will definitely make life easier for us."
Lessons Learned
Find a lender familiar with your industry
Do the research to determine which financial institution is right for you
Establish a relationship with a lender you can grow with