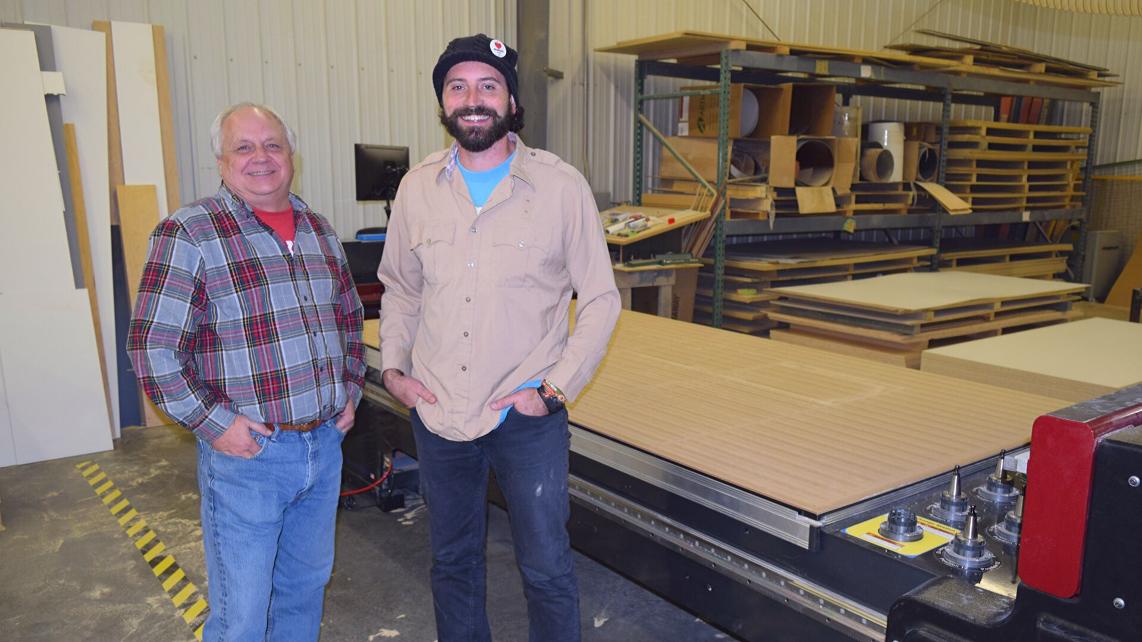 AUM Wood Products
Sam Drodofsky and Matthew Schiller
Spicer, MN
Sam Drodofsky is in his third year working in the front office for Matt Schiller, the owner of AUM Wood Products in Spicer, Minnesota.
AUM is an exciting place to work and has a shop that consists of experienced carpenters, builders, installers, designers and a finishing department. All areas take great pride in their work and never settle for anything but the very best custom cabinetry.
AUM Wood Products' ability to design and customize projects makes them popular with residential contractors in the Twin Cities and in the Northern Minnesota Lake areas, as well as locally in Central Minnesota.
"No projects are too small or too large for us," Sam said. "We truly relish all the opportunities that are presented to us. Keeping up with new technology and finding more efficient ways of producing our products without jeopardizing the quality is always a challenge."
After an evaluation of their equipment, Matt made the decision to upgrade their CNC machine with a new Thermwood CNC Cut Center. Before they actually pulled the trigger to buy the machine, Sam did an extensive search to find the best way to finance the Cut Center.
After making several phone calls, and not getting what seemed to him very much enthusiasm from other loan and leasing companies, Sam came across Stearns Bank.
After one conversation with Stearns Bank, Sam knew he found the right financing relationship he was looking for.
"It was easy for me to get the information put together and it didn't take long after that before we were approved," Sam said. "In making this big of an investment, we wanted to make absolutely sure that this was going to be the machine for us. So we went down to Thermwood in Indiana to actually see the machine operate and ask the questions we needed to."
This process took some time and Stearns Bank stayed in touch with Sam and Matt. Eventually, AUM pulled the trigger on financing with Stearns Bank.
"We were able to work out a delayed payment structure that suited us so that we were able to get the machine in our shop and start utilizing it before we had to make any initial lease payments. It was a no-brainer," Sam said. "Everyone here at AUM sees the Thermwood CNC Cut Center paying dividends for our business for a long time. This machine is a game-changer and we want to thank Stearns Bank, and their staff, for making it happen."