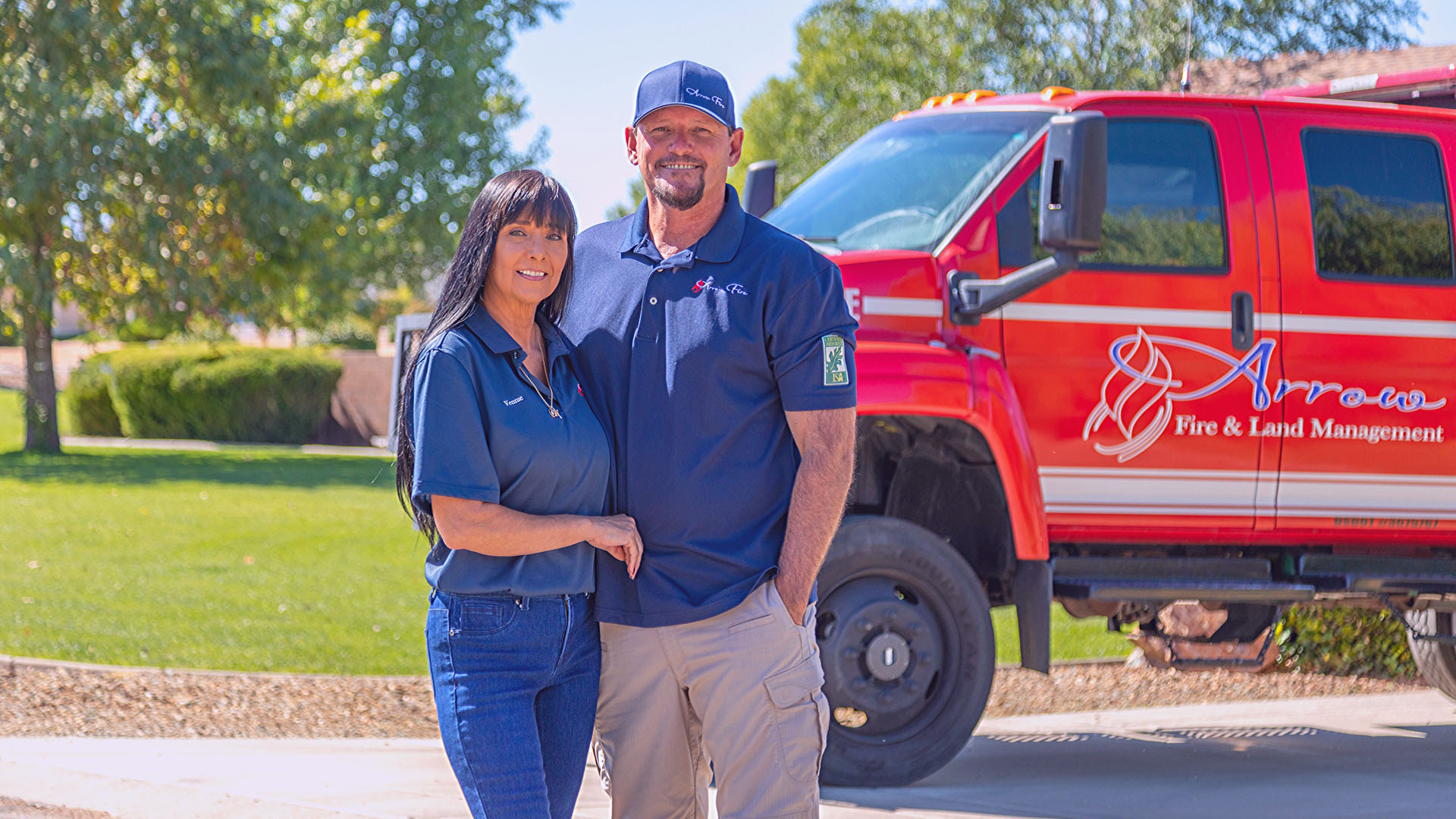 Arizona Fire & Land Management Business Finds Go-To Lender
Vennie and David Bowden
Prescott, AZ
When Vennie and David Bowden found a financial institution that believed in their business, they knew they found the right equipment financing relationship for them.
The Bowdens own and operate Arrow Fire & Land Management in Prescott, Arizona. They specialize in providing defensible space against wildfires and tree removal in Arizona. They focus on protecting homes and property with innovative ways while not destroying landscapes.
David used to be a "hotshot firefighter" that specialized in fighting wildfires throughout the country. He was a hotshot for six years before realizing he wanted to start his own business.
They have grown Arrow Fire & Land Management to 15 employees since then.
"We started working on defensible space fires and now have gotten into government contract work," Vennie said. "That's why we needed two used fire engines because a three-year window opened where we could sign those contracts. We had a skid steer, a caterpillar, a chipper truck and now we have the fire engines thanks to Stearns Bank."
The Bowdens had previously worked with Stearns Bank on financing a landscaping truck and decided to turn to the bank again when they needed help purchasing the two fire engines.
"It was so quick the last time that I knew I was going to call Stearns Bank right away," Vennie said. " I worked with (account manager) Brooks Anderson and he was awesome. He went above and beyond for us. Stearns Bank believed in us and our dream. They saw our vision and where it could go.
"These two engines are huge for us. We estimate making $3,000 a day when one of these are in use. We think they'll be in use more than 100 days per year. That's $300,000 for one engine in profit. With all of the fires happening on the West Coast right now, we will be very busy."
Being able to customize their payment terms to suit their needs was something the Bowdens also appreciated about Stearns Bank.
"The payment structure was huge for us. We worked out a quarterly payment structure with Stearns Bank and that was another way they went to bat for us," Vennie said.
"We have four payments a year after one down payment. It's a large loan, but one that is going to pay off for us."
The Bowdens wouldn't hesitate to recommend Stearns Bank to other small business owners in need of equipment financing.
"I'd recommend Stearns Bank to any small business owner I know. They're my go-to lender," Vennie said.
Lessons Learned
A customized payment structure from a lender can help you reduce costs up front after financing equipment
Find an equipment lender that understands your business and knows what the equipment means for your success
If you enjoyed working with a financial institution on previous financing, turn to them again because the process is made much simpler the second time around