Mallary Pressure Washing and Parking Lot Maintenance
Crownsville, Maryland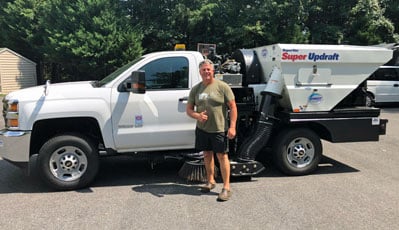 When Scott Mallary needs help on equipment financing, he always turns to someone who feels like family.
Scott owns Mallary Pressure Washing and Parking Lot Maintenance in Crownsville, Maryland. The business specializes in snow removal and pressure washing maintenance for businesses.
"This has been my business for 36 years," Scott said. "I love to clean – that's my passion. We do everything from buildings, warehouse floors to residential houses."
Scott has financed four different Schwarze sweepers in the past five years with Stearns Bank. He has worked with Stearns Bank's Terilynn Palmer and always comes away impressed with how fast Stearns Bank has gotten him the financing he needs for his equipment purchases.
"Stearns Bank has integrity and they're very up front about everything. When something works this well, you stick with it."
"It feels like I'm dealing with family when I'm talking with Terilynn," he said. "Stearns Bank has been the best. Terilynn and the team always get the job done and have a great attitude when they're helping me. Stearns Bank has the entire package."
Scott doesn't imagine switching his equipment financing lender up anytime soon, especially when Terilynn and Stearns Bank have delivered for him during every transaction.
"Stearns Bank has integrity and they're very up front about everything," Scott said. "When something works this well, you stick with it."