Smoke BBQ
Painesville, Ohio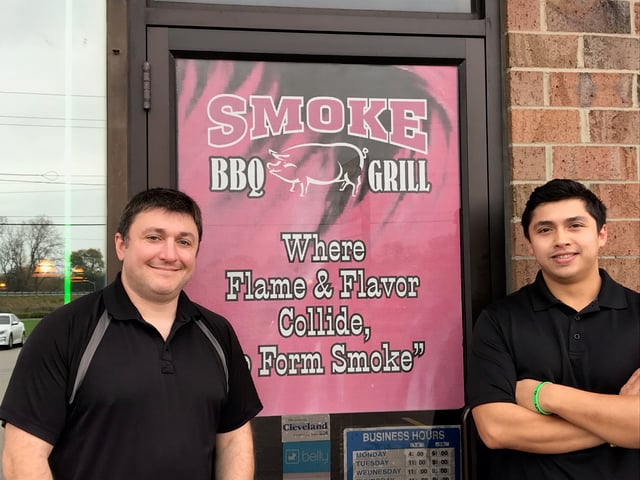 Shaun Bosko, Franchise Owner
Purchasing another restaurant franchise was easier than Shaun Bosko expected after working with Stearns Bank on an SBA loan.
Shaun, who already owned the Captain's Club in Eastlake, Ohio, decided to purchase an existing sports bar called Smoke BBQ in Painesville, Ohio. Painesville is a suburb of Cleveland.
With having to purchase an existing business and building, Shaun figured it wouldn't be easy. But after working with Stearns Bank SBA lender Joshua Borgerding, he came away pleasantly surprised.
"We initially started talking around Labor Day (2017) and we had finished with everything by the middle of October," Shaun said. "I used the SBA customer portal and I had 50 percent of my docs loaded after the first day. Stearns Bank checked the boxes off and we were off and running. I was shocked by how fast everything was."
Joshua helped Shaun lay out everything he needed to upload to the portal, which gave him a road map of what he needed to do to make the approval process go even faster.
"I dumped 50 percent of my documents the first day. Stearns Bank checked the boxes off and I was shocked how fast they were with the approvals," Shaun said. "It was a nice change for in the aspect that I was waiting on myself. I can get frustrated when I'm waiting on other people. When I uploaded something, they had it checked off within 24 hours or less."
Shaun, who has been in the restaurant business for 18 years, thought the transparency and open communication from Joshua and Stearns Bank was different than other financial institutions he had worked with in the past.
"Stearns and Joshua didn't rake me over the coals – they were extremely helpful during the SBA loan process and the interest rates were all in line with what we had talked about," Shaun said. "I didn't have the difficulties I had in the past with other banks. I couldn't believe how different it was with Stearns."
Shaun has high goals for Smoke BBQ. It's not a sports bar like the Captain's Club and it's geared more toward being a place to eat for the entire family.
"The food is fantastic," Shaun said. "The previous owner had a tremendous model in place and invested a lot in the business. We have a goal for expansion and it really does have the ability to grow. I know if we do expand that we will be working with Joshua and Stearns Bank again."