Sal's Prime Meats
Staten Island, New York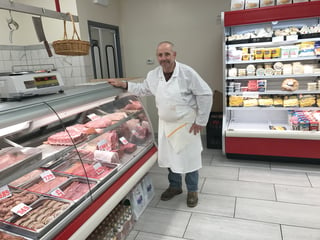 Sal Civiletti, Owner
If Stearns Bank SBA lender Katie Bobb is ever in Staten Island, New York, she has a free dinner waiting for her.
That's how pleased Sal Civiletti was after working with Katie and Stearns Bank on an SBA loan to help start his dream business, Sal's Prime Meats, in Staten Island.
"On a scale of 1 to 10 of working with Katie, it was a 10. She and (Stearns Bank processor/closer) Lucia Shoemaker have been very nice and polite from the beginning. I know they're in Florida, but I'd love to show them my store and take them out to dinner to show my appreciation to them one day."
After not finding the right financing for his start-up business early on, Sal was eventually referred to Stearns Bank. He found the experience of working with Stearns Bank to be a refreshing one.
The fact that Katie and Lucia were so personable made things more comfortable for him.
"They were able to help me out even though they didn't know me personally before this whole process started," Sal said. "The deal was done over the phone and it was great. I couldn't be happier about the way everything went."
Sal's Prime Meats has fresh meat and poultry available every day, along with a dairy case to choose from. They have a deli selection available and can cater parties as well. The whole goal for Sal was to have as wide of a selection as possible for his customers. Sal's officially opened in May 2017.
"We have grocery items available, too. We can do a lot for our customers," Sal said. "We have unique Italian and American offerings for everyone."