Which Wich Sandwiches
Mokena, Illinois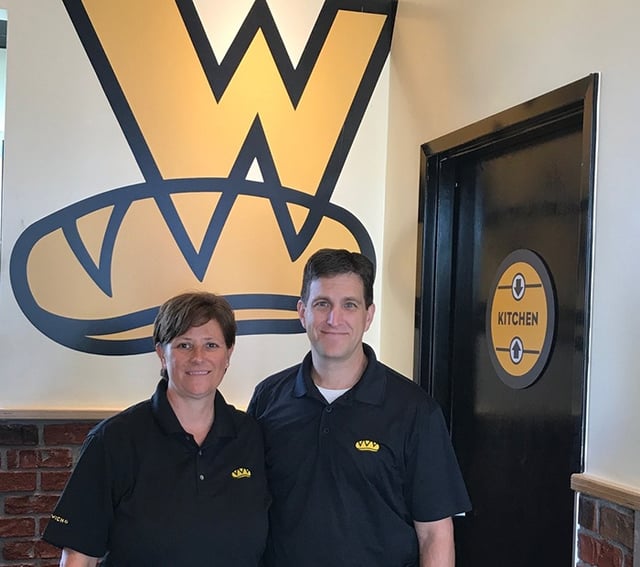 Julie & John Shapiro, Franchisees
John Shapiro was first introduced to a Which Wich Superior Sandwiches shop when he was on a hockey trip with his son in Detroit a few years ago.
At that time, Which Wich wasn't that well-known in the Chicago suburbs where John and his wife, Julie lived.
"I had been looking for something different to do for a while and when I ate at that shop in Detroit I knew this was the franchise I wanted to pursue," John said. "I just had to get my wife to bite. She wasn't on board with it at first. I took her to one of the shops and she loved it. She agreed that we had to take the next step."
The Shapiros met with Which Wich franchise personnel in Dallas, Texas, shortly thereafter and were introduced to Stearns Bank for financing their dream business.
Having never gone through an SBA loan process before, the Shapiros were grateful to have lender Katie Bobb helping them out along the way.
"She did a lot of hand-holding for us and answered a lot of questions we had. Some were probably common sense to her, but she was always very patient and helpful," John said. "Everybody was easy to work with at Stearns. They were always friendly and thorough."
The Shapiros utilized Stearns Bank's customer portal to easily upload documents to make the process more streamlined.
"The portal was easy to use. The bank was always quick and responsive when we uploaded something," John said. "Everything worked out well for us. I would definitely use Stearns Bank again if we decided to open another location."
The Shapiros' dream is to open at least three stores in the future. They are hoping that a healthy sandwich option is something more and more people will choose.
"We have a lot of different healthy choices. We have different choices of proteins, toppings and sauces. I know a lot of people like our selections and choices. We're excited about our future here," John said.