Angels Naturally
Brighton, Colorado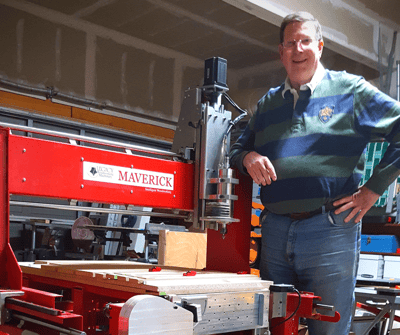 David Zappitello created a passion project for his small business.
He started Angels Naturally to aid in the healing process of those who suffered the loss of a loved one. He specializes in making wood carvings for people so they can remember a parent, child, sibling or relative with something tangible.
"That's how this company was born," David said. "I had done hand carvings for 43 years. So, I started to get arthritis in my hands and I needed another way to make these carvings. That's when I discovered the CNC router."
David purchased his CNC router in May 2017 and hasn't stopped using it since. David is disabled and has mobility issues. The router helps him get projects done more quickly.
"I recently changed the focus of my business to be more retail-based. Retirement doesn't suit me well and I want to be productive while impacting people's lives," he said.
"When I'm treated well, people will know about it. A lot of people in our group have heard a lot about Stearns Bank already."
When David needed financing help to purchase the router, he discovered Stearns Bank through a referral. He began working with account manager Missy Vos and discovered how easy financing equipment with a lender can be.
"Missy is very down to earth and personable. She has gone out of her way to get things done more quickly for me," David said. "She communicates so beautifully and understood what I needed from beginning to end."
Stearns Bank exceeded David's expectations thanks to Missy's help. He felt that the terms of his financing were customized to suit his needs.
"It was the most positive experience I've ever had with a financial institution," David said. "Stearns Bank and Missy are great partners to have. Missy provided good, timely service, but it was the respect she gave me that made it feel that everything was tailored for me."
David has no reservations telling his woodworking colleagues about Stearns Bank. He belongs to a CNC router user group in Colorado and has already referred friends to work with Stearns Bank.
"We have a group of about 70-something woodworkers," David said. "When I'm treated well, people will know about it. A lot of people in our group have heard a lot about Stearns Bank already."