No Limit Trucking #11 Inc.
Seaford, Deleware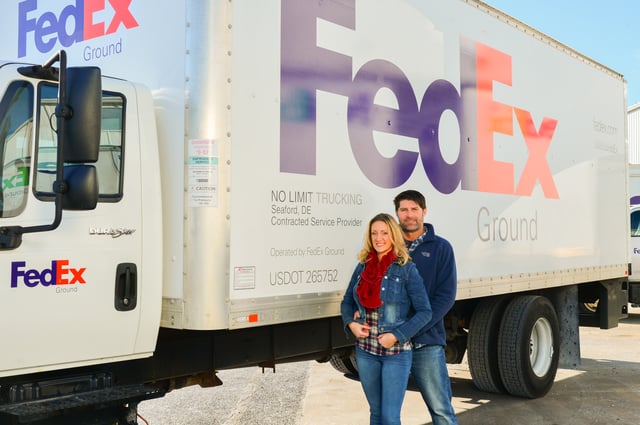 Bethany & Brett Thomas, Owners
Bethany Thomas has a full-time job as an insurance producer at State Farm Insurance.
She and her husband, Brett, own and operate No Limit Trucking #11 Inc. in Seaford, Delaware, and Bethany handles the financial portion of the business. Brett handles the day-to-day operations at No Limit.
When No Limit Trucking needs a new truck for its fleet, Bethany knows to call Stearns Bank Equipment Finance Division to help their business. She has always been able to count on Stearns Bank to provide financing for them at a moment's notice.
Bethany and Brett have been Stearns Bank customers for five years and have been Fed-Ex contractors for 17.
"The customer service that Stearns Bank provides is exceptional," Bethany said. "We've been really lucky to work with them. We know that we matter and we're just not a number. That's what does it for us. We can get Stearns Bank on the phone, and that's what keeps us coming back."
Bethany and Brett were referred to Stearns Bank by an old colleague. Since they don't have time to waste when they need another truck, the speed and consistency that Stearns Bank provides is always welcomed.
Bethany can send an email to Stearns Bank needing something and within an hour they have an answer.
"I can Stearns Bank what we're looking for and they give me a timeframe and when they believe the deal can be done," Bethany said. "It's easy, quick and convenient for us. They know us and it's always nice to talk with someone who is familiar."